Dartz promises own 6x6 G-Class with golden shishas and a dining room
Mon, 25 Mar 2013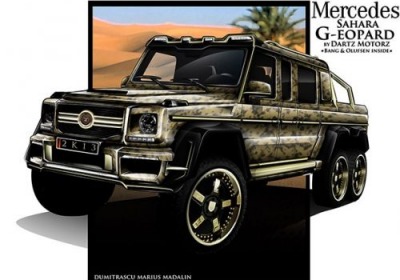 So you didn't really think Dartz Motorz was going to let the limited-production, 544-horsepower Mercedes 6x6 G63 AMG go without a challenge, did you? Picking up the gauntlet as only Dartz can, the Russian dream-makers have come up with the Sahara G-eopard, supposedly a special request from a buyer to make one of the 'standard' six-wheelers "more opulent and insane."

That means the vehicle from the factory gets extended by about a foot (30 centimeters), coach doors in the rear, a "yacht floor" and air conditioning that runs on its own power source, Asanti 24-inch Gold Bullion wheels and a water dispenser with Russian diamonds, which the owner will need to fill the golden shishas (hookahs) in the portable smoking room. That's right, you heard the man: a portable smoking room. Where the occupants will retire when they're finished in the portable dining room. Of course.

Yes, it will even have leopard spotting painted onto its nano-coating, and so much more. You can check out the press release below from the source. Try not to be jealous.

DARTZ is back with project!!!!!

I am sure You know this cars and yep, we got a request to make them more opulent and insane...

Three 6 wheeled G-class landed to UAE short time ago, but DARTZ already got request on this car upgrade.
Here is a list of what will be added to Mercedes Sahara G-eopard styled by DARTZ designer Marius Dumitrascu.
Car will be upgraded only for one family - so this car will be sui generis.

Except visible changes this car will have:
1. Car will be longer 30 cm.
2. Two coach doors for passenger.
3. Yacht floor.
4. Stand-alone aircondioner which will keep You comfortable even car does not run.
5. Car water dispenser with cooler, silver tubes and genuine russian diamonds. This uncopied device will make you fresh water with real silver ioned and undescriptioned diamond water taste.
6. Asanti 24 Gold Bullion wheels.
7. Gold plated metall parts.
8. Integrated golden shisha's for passengers.
9. Portable smoking room with shisha's and cigar's.
10. Portable dining room.

11. Special body nano-coating with gold sputerring and hand painted by famous DARTZ artist A. C'machoff geopard spots.

Aaaaand
N12 - our proud!!!!
In-Car cinema from Bang & Olufsen - result of hard work!!!!
specially integrated in this car by students of Aarhus (Denmark) Business Academy and KEA Copenhagen's School of Design and Technology (Denmark) in to this car.

Challenge your senses with a Bang & Olufsen In-car Smart Cinema. A masterpiece of sound, picture and digital entertainment.

Enjoy watching anything you like using your portable iOS or Android devices or Beo 6&4 remote controls. With Beo 6 your car become Smart, control lightning or sky roof with it.

Apple TV and Time Capsule are used in tandem to stream your pictures, videos, full HD movies and websites to huge BeoVision 11.

BeoVision 11 Smart 3D TV will challenge your senses and all previous conceptions of what a TV can be.

BeoLab 15 & 16 is much more than great sound. BeoLab 15 - treble, midrange unit and a motorized tilt mechanism which activates when your music starts to play. BeoLab 16 - separate subwoofer with four 4-inch speaker units mounted in two closed box cabinets.

A9 - Superior sound big enough to fill even the most spacious loft – wirelessly from your favorite devices. Open Your trunk on a camping and play your favorite music from your device.

There is no mistaking Bang & Olufsen sound.

Bang & Olufsen - from 2013 - will be option for all made or upgraded by DARTZ cars!

N13 Diamonds - forever and everywhere :-)....
---
By Jonathon Ramsey
---
See also: Watch this perfectly nice Mercedes get crushed by a front-end loader, Autoblog drives to the Arctic Circle, Mercedes-Benz introduces new heavy security M-Class Guard model.