Watch this perfectly nice Mercedes get crushed by a front-end loader
Mon, 25 Mar 2013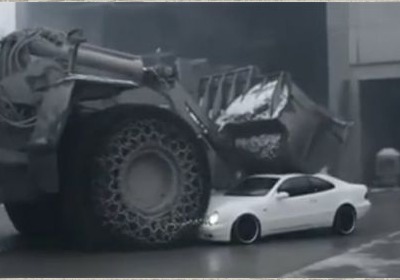 In a world where the YouTube hoax continues to thrive, it's hard to know what to think of this little vid, but here are the facts as we know them: a coupe that looks like a first-generation Mercedes-Benz CLK gets crushed by a giant front-end loader. There you have it.

Our questions arise in the aftermath – we know industrial resource machinery is heavy, but the Benz gets squashed so flat we wonder if someone's trying to play a joke on us. We hear that the white coupe may have been the heavy-equipment operator's foreman's car, but who knows? The on-camera interview seems awfully conveniently placed, yes? See for yourself in the video below and then leave us your thoughts in Comments below.



---
By Jonathon Ramsey
---
See also: Autoblog drives to the Arctic Circle, Mercedes-Benz introduces new heavy security M-Class Guard model, Submit your questions for Autoblog Podcast #325 LIVE!.