Audi prices 2014 A8L TDI from $82,500*
Thu, 31 Jan 2013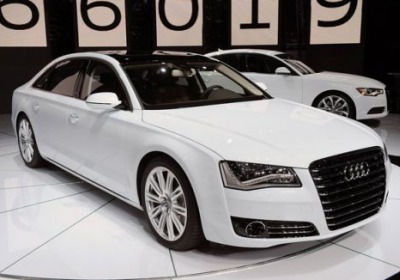 During the Los Angeles Auto Show last November, Audi told us that it would be bringing four new diesel-powered models to the United States this year. The first to arrive is the 2014 A8L TDI you see here, and we've now learned that the big oil-sipper will be priced from $82,500, (*excluding $895 for destination).

The whole new range of diesel models will be powered by Audi's 3.0-liter TDI V6, good for 240 horsepower and 406 pound-feet of torque in this application. Of course, Quattro all-wheel drive is standard, and even in the big A8, the diesel grunt will be enough to propel the long-wheelbase flagship to 60 miles per hour in 6.4 seconds (almost a full second slower than the A8 3.0T we reviewed last fall). That said, the A8 TDI should still be a pretty engaging steer, and considering the fact that this thing will reportedly return fuel economy figures of up to 36 miles per gallon on the highway (24 in the city), a slightly slower launch time is well worth it. (The A8 3.0T tops out at 28 mpg highway.)

Elsewhere in the segment, Mercedes-Benz offers a diesel version of its S-Class flagship, retailing for $93,000 and good for fuel economy figures of 21/31 mpg city/highway. By comparison, the A8 TDI seems like a steal, and we'll be interested to see where the forthcoming BMW 7 Series diesel falls into the class of huge oil-burning barges.

The 2014 Audi A8L TDI will hit showrooms in the US this spring. For the full details, scroll down to read the automaker's brief press blast.

Audi announces pricing and fuel economy for 2014 Audi A8 L TDI® clean diesel

Pricing starts at $82,500 for the first ever 2014 Audi A8 L TDI® clean diesel with an EPA estimated fuel efficiency of 24 city/ 36 highway/ 28 combined MPG

The Audi A8 has set new standards for the luxury sedan in terms of interior and exterior design, technology, performance and efficiency. Now equipped with the new 3.0 liter TDI clean diesel engine, the 2014 Audi A8 L TDI represents a dramatic expansion of the flagship sedan and the first of four new TDI models to be introduced this year.

Starting at $82,500, the A8 L TDI clean diesel, with quattro® all-wheel drive, makes a powerful statement in achieving the best fuel economy in its segment with an EPA estimated 24/ 36/ 28 mpg (city/ highway/ combined), while at the same time generating an impressive 240 horsepower, 406 lb.-ft. of torque that seamlessly launches 0-60 MPH in 6.4 seconds.

For the 2014 Audi A8 L TDI, the package options were optimized to better reflect customer demand. The available Premium Package now consists of Audi side assist and pre sense rear, 22-way multi-contour comfort seats, font seat ventilation with massage and full LED headlights.

The A8 L TDI joins an expanding model line-up including the A8 3.0T, A8 4.0T, S8 4.0T and A8 W12. The A8 L TDI will be available in the long-wheelbase version only.

The 2014 Audi A8 L TDI will go on sale in early Spring 2013. Additional 2014 model year information and pricing for other models will be announced at later in the year.
---
By Steven J. Ewing
---
See also: YouTube's Super Bowl commercial buzz list dominated by automakers [w/videos], Audi S3 Cabriolet spotted in the world for the first time, How does a 600-HP Audi RS6 Avant Plus sound to you?.