Clark Gable's 1955 Mercedes-Benz 300SL Gullwing doesn't sell, then does sell for $1.85 million [UPDATE: w/video]
Sat, 19 Jan 2013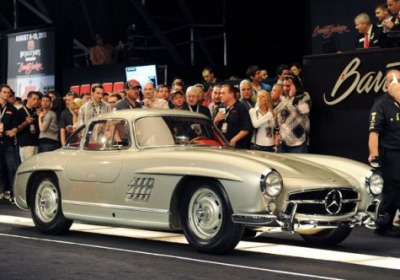 How much extra value does previous celebrity ownership add to of a car? Really, there's no way to know until the car in question hits the auction block and bidders start raising their hands. In the case of the 1955 Mercedes-Benz 300SL Gullwing you see above, the celebrity owner is none other than Clark Gable, who purchased it new. After Gable's death in 1960, the car changed hands a few times before settling with Charles Wood in 1975.

A high-dollar restoration was performed in 1989, and period accessories added by Gable himself were kept in place, including the Rudge knock-off wheels and Nardi steering wheel. Any Mercedes-Benz 300SL is worth a big chunk of money. In the case of Clark Gable's old Gullwing, the bidding stalled at $1.9 million here at the 2013 Barrett-Jackson auction in Scottsdale. As one of the 5000-series cars, this 300SL carried a reserve, and a bit of after-the-fact dealmaking saw the car change hands for $1.85 million.

You can see our high-res image gallery above, and the car's official auction description below.

*UPDATE: Video added below.




Barrett-Jackson Lot: 5001 - 1955 MERCEDES-BENZ 300SL GULLWING COUPE

Purchased new by Clark Gable at Mercedes-Benz of Hollywood, Calif. List price was $7,295 FOB NYC. After Gable's death in November 1960, ownership was passed to Harry Haeigen, cartoonist and Gable's publicist. Title passed to Charles Wood, owner of Grand Stand Amusement Park in 1975. In 1989, Mr. Wood commissioned Paul M. Russell of Gullwing Service Company, Inc. of Essex, Mass. To restore this classic at a cumulative cost of nearly $200,000. Gable ditched the standard steel wheels for the racing Rudge knock-offs the car wears now. The wood and chrome Nardi steering wheel replaces the standard white wheel, early photos show the Nardi wheel in Gable's lifetime. The car was featured in the May/June 2006 edition of Motor Trend Classic magazine. At the time the car was subjected to extensive testing that shows it can handle and perform much as it did in 1955. Copies of the 1960s auto registration cards show Clark Gable's signature along with Kathleen "Kay" Sprecker's (5th Wife). Gable signed service orders from Mercedes-Benz of Hollywood for a lube/oil change for $4.00 and parts for $10.83 total. From the Bob Howard Collection.
---
By Jeremy Korzeniewski
---
See also: Mercedes-Benz CLA stars in sweeping short with supermodel Karlie Kloss, 13-year-old boy swipes dad's Mercedes, drives across Europe, Mercedes-Benz GLA45 AMG spied in Sweden.