Chevy to show redesigned Captiva in Geneva, will it come to US rental lots?
Wed, 27 Feb 2013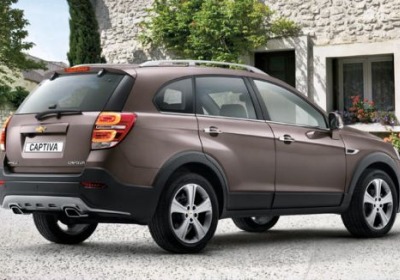 Unless you're renting a car or driving through Orlando, Florida (the rental car capital of the US), you'll probably never see a Chevrolet Captiva – the rebadged, fleet-only version of the old Saturn Vue – on our roads, but this crossover is popular in many other parts of the world. As such, Chevrolet announced that the Captiva will be getting an update for 2013, which will be unveiled next week at the Geneva Motor Show.

Coming off a pretty extensive refresh in 2011, the 2013 model year will bring even more changes to the Captiva like LED taillights, new 18-inch wheels and revised fascias with a new grille and fog lights up front and inset chrome exhaust outlets at the rear. New interior features include heated rear seats, dual-zone climate control as well as available options on some of the upper trim levels such as leather seating and keyless entry and start. We have yet to hear back from Chevrolet as to whether or not the updated Captiva will be making its way to a rental lot near you, as the model is only available in the US to fleet buyers.

Alongside the updated Captiva, Chevy is also showing off its new Trax in Europe, where the subcompact crossover will go on sale this spring. GM's press release for these two Geneva-bound models is posted below.

Redesigned Chevrolet Captiva SUV to debut in Geneva

-Captiva boasts carefully re-designed rear and front
-Keyless start and entry among Captiva's new comfort features
-Trax sales to start in spring

Being widely acknowledged as the creator of the entire SUV segment with the Suburban in 1935, Chevrolet has more than 75 years of experience in designing great sport utility vehicles. At the 2013 Geneva Motor Show, the brand will present the restyled edition of its Captiva compact SUV in Europe for the first time.

The new Captiva introduces several changes to the rear and front of the vehicle, including new LED tail lamps, angular chrome exhaust tips and a remodeled bumper. Up front, it sports a lower bumper, a new grill mesh as well as restyled foglamps. New 18-inch alloy wheels further enhance Captiva's road presence.

The Captiva will now feature keyless entry and start as standard on upper trims. Inside, the vehicle will boast fresh seat colors, new fabrics (upper specifications: leather seats), and restyled trims in the instrument panel. A dual-zone climate system, an ambient lighting package and heated rear seats provide even more comfort on select specifications.

Offering up to seven seats, along with additional convenience features, the restyled Captiva is a typical SUV for the family. Chevrolet will up the ante even more by launching Trax this spring, its contender for the popular and fast-growing small SUV segment. Trax will be available in front and all-wheel-drive configurations.


"With Captiva and Trax, Chevrolet will offer two very distinct SUVs in Europe, both featuring Chevrolet's iconic design," says Susan Docherty, President and Managing Director of Chevrolet and Cadillac Europe. "Trax combines the agility of a small car and the versatility of an SUV, making it perfect for today's urban explorer. The larger and more powerful Captiva has a more upscale presence. Captiva is the ideal companion for those who want to have some adventure, but feel that they could do with more space, capability and that extra bit of convenience," Docherty added.

Trax sales to start in spring

Trax is scheduled to arrive at dealerships in Europe as of spring this year. Chevrolet's new small SUV features an athletic, inspired styling, a choice of three fuel-efficient engines and sporty, responsive ride characteristics. The engine line-up will comprise a 140 hp (103 kW) 1.4L turbocharged gasoline unit, a 1.6L gasoline engine as well as a 1.7L diesel engine which produces 130 hp (96 kW). All manual transmission variants come with Start/Stop technology. Trax is offered in front-wheel-drive (FWD) and all-wheel-drive (AWD) configurations.

Upper trims will feature Chevrolet MyLink technology as standard, a system that aggregates content from compatible smartphones onto the seven-inch high-resolution full-color touchscreen display. Chevrolet MyLink will also enable users to navigate by means of a dedicated smartphone app called BringGo and will allow them to access TuneIn internet radio.

MyLink users who own a compatible iPhone* (as of 4S) running iOS6 will be able to use the Siri assist system, to perform a number of tasks while they safely keep their eyes on the road and their hands on the wheel.

Technical data preliminary

* Siri requires internet access. Siri may not be available in all languages or in all areas, and features may vary by area. Cellular data charges may apply.

About Chevrolet

Chevrolet is General Motors' largest global brand with annual sales of almost five million vehicles in more than 140 countries. It is the fourth biggest global car brand in terms of sales and also one of the fastest growing brands in the world. Chevrolet cars combine bold design, performance, innovation and practicality. They provide outstanding value for money. Established in the U.S. by Swiss émigré Louis Chevrolet in 1911, the brand celebrated its centenary in 2011. The brand was re-launched in Europe in 2005. It is represented with a total of 2,500 sales and service outlets in Western and Central Europe. The European Chevrolet line-up includes the Spark city car, the small Aveo sedan and hatchback, the compact Cruze sedan, hatchback and station wagon, the Orlando family van, the Captiva SUV, the Malibu mid-size sedan, the legendary Camaro and Corvette sports cars and the extended-range Volt electric car. In 2013, Chevrolet is launching the all-new Trax small SUV and the all-new Corvette Stingray.
---
By Jeffrey N. Ross
---
See also: Why Cadillac thinks it needs to succeed in Europe to sell cars elsewhere, Who sold the most heavy-duty pickups in 2012? PickupTrucks.com investigates, C7 Corvette turbo with 1,000 horsepower promised from Hennessey.