Cadillac Elmiraj Concept slinks in Leno's Garage
Wed, 28 Aug 2013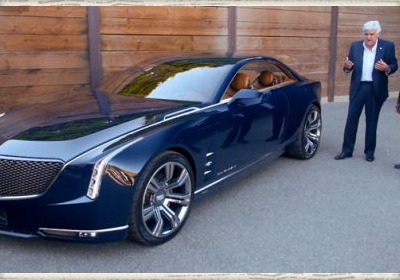 Jay Leno's Garage has moved to Pebble Beach for the week. This time around, the affable comedian is taking a look at the Cadillac Elmiraj Concept that debuted during the Monterey car week, and is talking to General Motors vice president of global design, Ed Welburn.

There's plenty of reminiscing about what concept cars were like when these two were kids, before a fairly deep dive into the striking Elmiraj Concept itself. Welburn shares a few anecdotes about the design process behind the two-door concept, including how his designers changed his mind on the grille design.


After bringing up the Cimarron, Leno makes a solid point that the Elmiraj would be a solid production car that could even spawn a four-door variant. We couldn't agree more. Take a look below for the full video from Jay Leno's Garage.



---
By Brandon Turkus
---
See also: Cadillac CTS Vsport laps the N"urburgring in 8:14.10 [w/video], Cadillac planning more Vsport models, Liberace's gilded Cadillac could be yours.