Cadillac CTS Vsport laps the N"urburgring in 8:14.10 [w/video]
Wed, 28 Aug 2013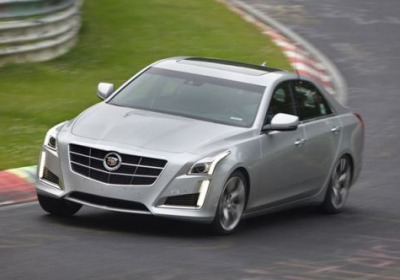 You don't have to be German to test your car at the Nürburging. You just have to be serious about beating the Germans on their own home turf. That's why Nissan tests its GT-R at the Nordschleife to challenge the Porsche 911, and why Cadillac – which is no less serious about putting up a fight to German performance sedans – has returned to the 'Ring once again with its latest.

This time it's the turn of the new CTS Vsport, the sportier version of Cadillac's new mid-range sedan that aims to bridge the gap until the arrival of the next CTS-V. So how'd it fare? At the end of what we're sure was an exhaustive test session, the new CTS Vsport clocked a time of 8:14.10.

To put that into context, General Motors points out that the time places the new sedan six seconds ahead of the first-gen CTS-V, whose 400-horsepower V8 engine was actually less potent than the Vsport's new 410hp 3.6-liter twin-turbo V6. That's still a good fifteen seconds slower than the outgoing CTS-V that clocked a 7:59 in 2009 with its 556hp supercharged V8, but only a second behind the E60-generation BMW M5 with its high-revving 500hp V10.

That's mighty impressive indeed, and we can't wait to see what the next CTS-V can manage. The four-door crown currently belongs to the Porsche Panamera Turbo S that set a 7:52.20 in 2011. Just sayin'. Scope out the video clip and press release below.




ALL-NEW CADILLAC CTS DRIVES CHALLENGING NÜRBURGRING
Vsport model records lap time of 8:14.10 at world's most-demanding test track

DETROIT – Cadillac validated its all-new 2014 CTS midsize luxury sedan and power-packed CTS Vsport at the world's most-demanding test track – Germany's Nürburgring – and recorded lap times to enhance the nameplate's reputation as a driver's car.


Notably, the 2014 CTS Vsport, featuring Cadillac's first Twin-Turbo engine and eight-speed transmission, recorded a lap time of 8:14.10, almost six seconds faster than the first generation CTS-V recorded 10 years ago with a larger V-8 engine.

Nürburgring validation certified that all CTS suspension packages are capable of handling the extreme conditions and unlimited speeds of Autobahn driving. CTS development included Autobahn and track calibrations of the steering system, shock absorbers, chassis controls and powertrain cooling.

"The Nürburgring's extreme conditions allow us to push cars to the limits of stability, steering, braking, ride and handling," said Dave Leone, CTS executive chief engineer, Performance Luxury Vehicles. "The new CTS models had a lot to live up to considering the nameplate's history of outstanding performance, and we were not disappointed."

Measuring 12.9 miles (20.8 km) and including some 154 turns, the Nürburgring's Nordschleife ("north loop") is widely considered the world's most-demanding course for vehicle validation. Cadillac vehicle dynamics performance engineer Kevin Zelenka and Jeff Grabowski drove full production models of CTS and CTS Vsport with no performance modifications, validating all-new 2014 CTS sedan that goes on sale this fall.

"The new CTS was an absolute riot to drive on the Ring," said Zelenka. "It's more athletic and refined, and the Vsport proved extremely capable. If a car performs well on the Ring, it will perform well on any road in the world."

The CTS has been the centerpiece of Cadillac's portfolio for more than a decade. The third-generation CTS is one inch lower, five inches longer and more than 200 pounds lighter than its predecessor. The new car also has lower curb weight, greater structural stiffness and more horsepower than its primary competitors.

The all-new CTS is engineered from the ground up to deliver a driving experience that combines sport-tuned handling with world-class comfort. Its segment-exclusive Magnetic Ride Control and electronic limited slip differential constantly monitor rear-wheel rotation to ensure optimal handling in a variety of road conditions.

The 2014 CTS standard model will start at $46,025, including $925 destination. Three collections of option packages – Luxury, Performance and Premium – will be offered with either the 2.0T turbocharged four cylinder or 3.6L naturally aspirated V6 engine in either rear- or all-wheel drive. The CTS Vsport model starts at $59,995, including $925 destination, and features the new Cadillac Twin-Turbo 3.6L V6 (420 hp) in RWD only with an eight-speed transmission.

About Cadillac
Cadillac has been a leading luxury auto brand since 1902. Today Cadillac is growing globally, driven by an expanding product portfolio featuring dramatic design and technology. More information on Cadillac appears at www.cadillac.com. Cadillac's media website with information, images and video can be found at media.cadillac.com.
---
By Noah Joseph
---
See also: Cadillac planning more Vsport models, Liberace's gilded Cadillac could be yours, How GM's grueling 24-hour test gets the kinks out of its performance cars.