Bill Ford augments his power by nearly doubling stake of supervoting shares
Fri, 28 Jun 2013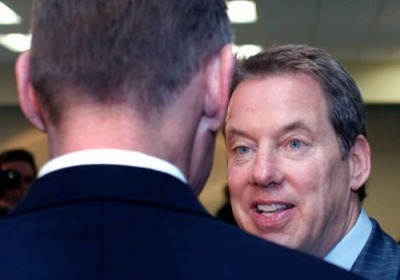 Bill Ford Jr. has more sway than ever over the automaker that bears his surname, as the great-grandson of Ford's founder has reportedly doubled is holdings of Class B Ford stock. According to a report from Reuters (which cites a newly discovered securities filing), he acquired some 3.7 million Class B shares from an unnamed family member.

Class B shares of Ford stock are held by descendants of Henry Ford and offer expanded voting power to their holders – Bill Ford Jr. now controls roughly 11.5 percent of the total Class B pool. Ford Jr. is also a one of five trustees that manage a voting trust that oversees the majority of these "supervoting" shares. In total, Reuters reports there are 71 million Class B shares that account for 40 percent of the voting power in the company, despite making up just 2 percent of the total volume of all Ford stock.


Ford Jr. served as Ford's CEO until 2006, when he stepped down to hire and make space for current CEO, Alan Mulally. The move to consolidate Ford family voting power, at least somewhat, is seen by many as a comforting sign with Mulally's departure from the company likely to happen in the next several years.

Still, some shareholders would just as soon Ford Jr. and the Ford family lose their grip on the supervoting shares. In May, shareholders came closer than ever to reducing the family's power, with 33.4 percent voting to end the dual-class stock system.
---
By Seyth Miersma
---
See also: What an Atlas-based Ford F-150 might look like, 2014 Ford F-150 Tremor adds some sport to shake things up, Ford Fiesta ST in startling track battle against Toyota GT86.