Autocar pits McLaren MP4-12C against turbo Toyota GT86
Thu, 29 Aug 2013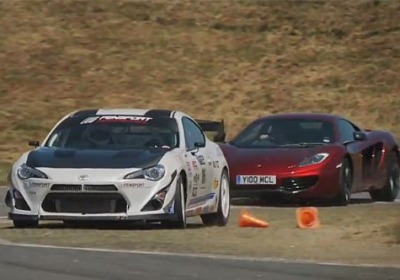 The Toyota GT86, in all of its forms, is one of the best-handling cars money can buy, a trait that can put a smile on the faces of all but the most jaded car enthusiasts. But if good handling isn't what they're looking for, then what is? Our first guess would have to be more power, something the 200-horsepower Toyota would benefit from. Autocar tries out that theory by driving two turbocharged GT86s on track, then pitting the more powerful one against the 616-hp McLaren MP4-12C in a track battle.

The first GT86 turbo Autocar's Steve Sutcliffe drives makes around 255 rear-wheel horsepower and a bucket-load more torque than the stock car. That's plenty of power to either have a lot of fun or get into a lot of trouble. But the GT86 that Sutcliffe tails in the McLaren is race-prepped, stripped to the bone and wears slicks to harness a heavy-hitting 335 hp at the wheel. Weighing in at under 2,500 pounds, the Toyota can't overcome the MP4-12C's power-to-weight ratio of 5.3 pounds per horsepower, but it comes pretty close.


Enjoy a lot of chasing and drifting fun in the video below!



---
By Damon Lowney
---
See also: Toyota gives a free RAV4 to 50-millionth customer [w/video], Toyota wants improved crash scores with midcycle facelifts, Toyota releases its Le Mans recap, 'The Ultimate Endurance Race'.