Toyota gives a free RAV4 to 50-millionth customer [w/video]
Thu, 29 Aug 2013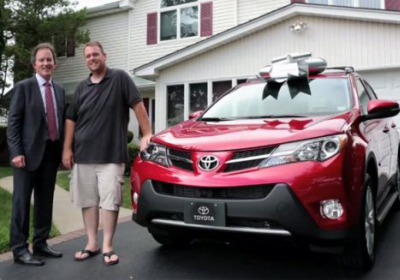 Not surprisingly, the 50-millionth Toyota product sold in the US was a Camry, but Toyota had a big surprise in store for Michael Dee, the buyer of said milestone vehicle. Toyota group vice president Bill Fay showed up at Dee's house to not only personally thank him for the purchase, but also completely paid off that brand new Camry, presenting the owner with a clear title.

But that wasn't all. As you can tell from the image above, Fay had one more trick up his sleeve. The group VP brought along a brand new 2013 Toyota RAV4, which was also presented to Dee in appreciation. The best part is that Dee's genuine amazement was all caught on video, which is posted below.




New York City Police Officer Gets Big Surprise at Family Barbecue
Toyota Pays off Car Loan and Gives SUV to 50 Millionth Customer


LEVITTOWN, N.Y., Aug. 29, 2013-- Imagine a stranger wearing a suit strolling into your backyard during a family barbecue. He's carrying balloons, the title to your car and the keys to another car. Sound too good to be true? That's exactly what happened to NYPD veteran Michael Dee.

Dee became Toyota's 50 millionth customer when he bought a Camry earlier this year from Millennium Toyota in Hempstead, NY. To celebrate the milestone sale, the company worked with his family to surprise him during a family barbecue in Levittown, N.Y.

While Dee was busy at the grill, Toyota executive Bill Fay snuck into the backyard and presented him the title. Fay then led a flabbergasted Dee to his driveway, where a new 2013 RAV4 waited.

Dee, who will soon celebrate his 20th year of service with the NYPD, was speechless... at first. "I don't know what say!" he exclaimed. "This is phenomenal. I can't explain how much this means to my family and how grateful we are to Toyota! The whole 'thank you' thing just doesn't seem to cut it. It's a day I'll never forget."

"We're so grateful to our customers in the U.S. on helping us achieve such a huge milestone for our company," said Fay, Toyota Motor Sales, U.S.A., Inc. group vice president and general manager of the Toyota Division. "To be able to thank our 50 millionth customer in person – one of New York City's finest, no less - was also a great honor to me personally. By the way, the barbecue was great."
---
By Jeffrey N. Ross
---
See also: Toyota wants improved crash scores with midcycle facelifts, Toyota releases its Le Mans recap, 'The Ultimate Endurance Race', Toyota RAV4 EV lease gets cut in half to $299/month.