400-hp Toyota Hybrid-R Concept gets second teaser
Tue, 13 Aug 2013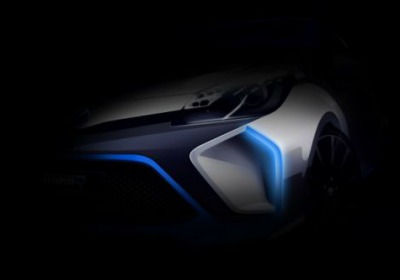 Toyota has released a second teaser of its Hybrid-R Concept, along with an estimation of the show car's power output. Using technology that's "similar to that used by Toyota Racing's TS030 Hybrid race car," the concept is expected to deliver over 400 horsepower.

The press release also mentions that the new concept is based on a current production model. While it's difficult to tell from the sole teaser image of the car's body, rumors are flying that it's related to the Yaris. If that's the case, though, it's difficult to know what to make of this concept. The teaser image is quite dark, but we played around with the exposure and came up with an image that reveals more details about the new concept. Take a look at the related gallery, below, to see the high-exposure image. We'll find out for certain what the Hybrid-R is in a few weeks at the Frankfurt Motor Show. Let us know what you think Toyota's newest concept is in the comments.



TOYOTA HYBRID-R CONCEPT AT THE FRANKFURT MOTOR SHOW: MORE DETAILS RELEASED

Hybrid-R is based on a current Toyota production model and is equipped with a powertrain that features similar technology to that used by Toyota Racing's TS030 Hybrid race car in the FIA World Endurance Championship.

It combines a high-power internal combustion engine with electric motors to achieve a maximum power output of more than 400bhp (298kW). A dual mode control allows the car's performance to be tailored to suit either road or racetrack.

Toyota will host a press conference on its stand in Hall 8 at 12.45pm on 10 September.
---
By Brandon Turkus
---
See also: Toyota to sell hot-pink Crown in Japan, Two new RWD Toyota sports cars to join FR-S?, Toyota promises Hybrid-R concept for Frankfurt.