2015 Ford Mustang Convertible makes inappropriate appearance in Detroit [w/video]
Tue, 14 Jan 2014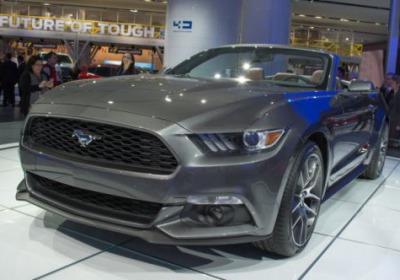 With the polar vortex fresh in the minds of Autoblog's Detroit-based staff, we're finding it funny that any manufacturer would choose January in the Motor City to show off a new and highly anticipated convertible to the general media and public for the first time. But Ford has done just that, giving us our first real peek at the new Mustang Convertible in the flesh.

The new Mustang Convertible is more or less unchanged from the standard coupe, with some subtle styling tweaks to accommodate the retractable soft top. Engine and transmission choices are identical to the hardtop, although we should expect slightly lower performance due to the hardware for the roof. Like the coupe, neither prices nor performance metrics have been published yet for the convertible.


Hop up top for our live gallery of images from the floor of the Detroit Auto Show.


---
By Brandon Turkus
---
See also: F-150 just the start of Ford's aluminum plans, The 2015 Ford Mustang is not so mellow in yellow, 2015 Ford F-150 brings big aluminum to the Rust Belt [w/video].