F-150 just the start of Ford's aluminum plans
Tue, 14 Jan 2014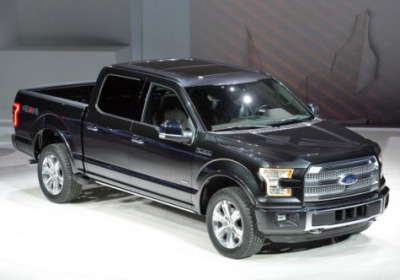 Not only have we been told that the 2015 Ford F-150 is tougher, more durable and up to 700 pounds lighter than the current truck, Ford COO Mark Fields said it's also "CAFE-positive." That means, for the first time in the history of corporate average fuel economy standards, the F-150 would be a positive contributor on Ford's CAFE balance sheet instead of being a vehicle it needs to counterbalance with frugal offerings.


Fields' comments made at the Detroit Auto Show were among quotes from other Ford execs that confirmed the carmaker will be using aluminum for more of its vehicles. CEO Alan Mulally said it would "proliferate across our lineup," with speculation being that we'll see it applied to crossover and sport utility models first, since they'll benefit the most. Even gaining the massive scale of using aluminum on the world's best selling vehicle for its first effort - on average, the company sells two times as many F-150s in a single day as Land Rover sells of its aluminum Range Rover in a month - Ford will be looking to further spread the cost of its five-year development investment in aluminum technology. And that should mean better handling and fuel economy for those of us who don't need to wear hardhats at the office.
---
By Jonathon Ramsey
---
See also: The 2015 Ford Mustang is not so mellow in yellow, 2015 Ford F-150 brings big aluminum to the Rust Belt [w/video], 2015 Ford F-150 shaves 700 pounds, adds 2.7-liter EcoBoost [w/video].