2014 Fiat 500L [w/video]
Tue, 02 Apr 2013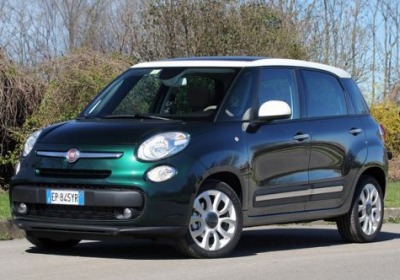 Practicality From The Italian Ministry of Cute

As seen in the correct Italian/European light, Fiat is rightly dubbed a small car kingdom. This is not the marque's whole story, though, and it's certainly not a way Fiat appreciates being pigeonholed. But even the brand itself sort of has to admit that, in the end, without clever and right-priced smaller cars in its lineup, it might not even exist today.

Between the early 1980s and the dawn of the 21st century, however, the Fiat brand seemingly did everything it could to wreck itself and its core compact-car reputation by producing a series of certifiably unamazing cars that mostly looked drab and behaved below average. Just go have a gander at the Ritmo, the Uno, the Duna, the 1992-98 Cinquecento, 2004-07 Seicento/600, and the most recent European mega-flop, the Stilo, discontinued in 2008. Thankfully, almost right out of the gates since the mid-aughts, however, that has no longer been the case.

Jammed in this self-inflicted Catch-22 of small-car dependence, Fiat finally started capitalizing on the millstone hanging around its neck and turned it into a positive with the introduction of the new 500 back in 2007. The 500 and its wildly popular Abarth interpretations have allowed Fiat to at last create good premium-subcompact profits because these cars have become personalized trend and fashion statements worldwide.

Now I've driven this cheeky 2014 Fiat 500L mini-MPV, which should arrive in the US by the end of June. It's the next chapter in the Fiat brand's rise from the ashes and re-entry in America. The latter has been perhaps a much slower rise than desired due to the Great Recession and a European car market that continues to collapse in on itself in pretty scary fashion, but there is now light at the end of the Fiat tunnel. After a whole week of normal day-to-day with child and friends and stuff and many miles traveled, I was genuinely convinced by the 500L after not really knowing at all what to expect.


It's built at the production facility that once churned out the god-awful Yugo subcompact.
People who study this industry and like to suss out things at which they can point a skeptical finger will jump all over the fact that the 500L for North America (and the whole world) is being built at a factory site in Kragujevac, Serbia. This is a site where once was located the prehistoric production facility that churned out the God-awful Yugo subcompact. We can already see commenters reaching for their keyboards who will insinuate that everything Fiat builds there will be no better than a Yugo. If you are one who feels the necessity to incorrectly make that claim just because you can, hold on for a sec, will ya?

Fiat took over the entire industrial site in Kragujevac that was then occupied by builder Zastava, which produced the humiliating little Yugo hellbox until 2008. Right away, the Italians chucked everything out and built up what is now arguably the most advanced production facility in the entire Fiat-Chrysler Group empire at a cost approaching $1.5 billion. What I noticed on my very Euro-chic top-trim 500L Lounge with a torquey 1.6-liter MultiJet turbodiesel engine was that, at this attractive price range, it is eminently useful, well-built, clever and to my eyes, just the right amount of adorable. Here's hoping its North American marketing and advertising can be as well-targeted as that for the 500 Abarth or for the post-J.Lo-debacle standard 500.


Many cues on the 500L do carry over from the sweetly cute look of the 500.
Alright, I am not blinded by my head being in the clouds, nor am I drunk on Chianti: the 500L is a very... interesting design, let us say. A-hem. When the word "adorable" comes out of my mouth in reference to the 500L, it is the happier word I choose when looking at my daughter after she has dressed herself and done her own hair for the first time ever. The 500L's frumpy exterior grew on me during the time I was with it. I will say that I prefer this design to the Mini Countryman, and that many cues on the 500L do carry over from the sweetly cute look of the 500 citycar.

Those open to such littler sets of wheels as the 500L – folks such as myself, I suppose – should flat-out dig this well-packaged hauler. Just the sitting in it brings a grin to one's face. Granted, the higher seating perch I had in daily Italian city traffic will feel less "up there" on American streets with sheetmetal mountains all around you, but should still be sufficiently elevated under most circumstances. I do hope, too, that the seat bottoms are lengthened a bit for North American bodies since they felt too short for adequate thigh support. Overall exterior size-wise, we're talking Mini Countryman and Kia Soul territory here.



The suspension setup is meant more for country cruising versus carving curves.
You can look at the 103-horsepower rating from this 1.6-liter turbodiesel MultiJet four-cylinder engine and the 500L's curb weight of 3,000-plus pounds and chuckle, but the spring in the step at lower revs and lower gears around the city or suburbs is really good, thanks of course to the 236 pound feet of torque generated way down low in the rev range. Getting to 60 miles per hour from a stop in 11.0 seconds or less, having a maximum speed of 112 miles per hour, and returning upwards of 52 miles per US gallon, last I checked, were more than sufficient numbers to get by in one's day-to-day. This is especially true in an urban context while hauling stuff and humans around in tighter streets. Plus, all of the Italians were staring at us in a really good way and frequently asking questions about the 500L – always a good sign.

Aside from the outstanding seating orientation and obvious benefits to outward visibility, the default suspension calibration of the 500L surprised me immediately because I was expecting to get pretty banged up and hear dampers bottoming out on Italy's bad city streets. None of this happened and the feel was terrific for everyday driving on all surfaces, even with my fully optioned tester dressed in the 17-inch "Bianco Diamantato" wheelset with Goodyear Eagle F1 all-season treads – 225/45 R17 91V all around. Granted, once the road turns sporting and you want to push the 500L the way you might do your Abarth, you soon see that the 500L setup – as it shares its architecture with the Euro-only Fiat Panda micro crossover – is meant more for country cruising versus carving curves and lap times. There is some wallow in the chassis, but it's soft and merciful as it nicely absorbs any bumps encountered.


We can expect a quicker mini-MPV experience than what I experienced here in Italy.
The version of the 1.4-liter Multiair turbocharged four-cylinder gas-fueled engine that will be found in the North American 500L is similar in design to the 1.4-liter four in the Dodge Dart. It has a tune that strays more toward that of the European Abarth Punto, though, as it reaches 158 hp and 184 lb-ft of torque for an estimated acceleration to 60 mph in 9.0 seconds or less (compared to 7.7 seconds in that Abarth Punto weighing 300 lbs less than the 500L). So we can expect a quicker mini-MPV experience than what I experienced here in Italy, but lower-end pounce in the city will be less satisfying than with the 1.6-liter diesel engine I tested.

Another joyous detail in my loaded 500L was that they stopped short of loading it with the six-speed optional "dual dry clutch" transmission, instead leaving in the standard six-speed manual. When it comes to smaller diesel engines, a manual is the best pairing option and this is a very good gearbox. The Fiat DDCT is alright, but in this particular configuration with the diesel engine as its mate, I would avoid it. With the 1.4T gas setup for the US, however, the DDCT should make a fairly good companion. But that manual with its big easy-to-palm shift knob is ultimately the way to go in the 500L if you care about driving smoothness and enjoyment.


I could think of few finer fair-weather tour mobiles for hitting the national parks, for instance.
Inside the 500L, life is good with a flexible cargo and passenger area, an enormous panoramic opening glass roof (optional) and a good suite of onboard systems to help. All passengers should feel they have plenty of space, and cargo room can range from the basic 14.1 cubic feet on up to 46.3 cu-ft. The front passenger seat can also fold flat for those long IKEA loads.

With that optional glass roof – barring pigeons or seagulls that eat masses of fiber perching on branches above your parking spot – I could think of few finer fair-weather touring mobiles for hitting the national parks, for instance. In addition, attaching the touchscreen operated onboard media to the optional Beats sound system from our own Dr. Dre makes for a thumping party in this glass house. An odd, maybe erring on ultra-kitsch, touch with the fabric seats in my tester is the embossed scripted English messaging in the seatbacks front and rear that reads: "More color can speak to the heart in a thousand different ways."

Uplifting fabric messaging aside, the 2014 Fiat 500L should successfully inch the Italian brand into larger and more accommodating market segments. And it's a frumpy-cute li'l thang. C'mon.


Vital Stats
Engine:

1.6L Turbodiesel I4

Power:

103 HP / 236 LB-FT

Transmission:

6-Speed Manual

0-60 Time:

11.0 Seconds

Top Speed:

112 MPH

Drivetrain:

Front-Wheel Drive

Curb Weight:

3,010 LBS (est.)

Seating:

2+3

Cargo:

14.1 / 46.3 CU-FT

MPG:

32 City / 52 HWY (est.)

Base Price:

$23,500 (est.)

As-Tested Price:

$25,000 (est.)
---
By Matt Davis
---
See also: Audi rumored to buy Alfa Romeo, officials deny it, Fiat boss Elkann being mentored by... Bill Ford?, Jeep Cherokee faces on-sale delay.