2013 Jaguar XF Sportbrake
Thu, 28 Feb 2013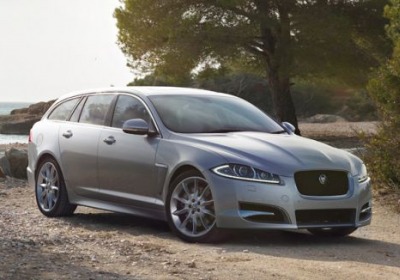 Editor's Note: Our reporter was anxious to get some time behind the wheel of the XF Sportbrake, even though Jaguar only had a very small window available for us to drive it. As a result, we weren't able to capture our usual original images to go with the Quick Spin story. Please accept our regrets, and Jag's lovely stock photography, instead.

The last wagon attempt from Jaguar was the X-Type, built between 2003 and that model line's unceremonious end in 2009. That X-Type and its legacy represent a real dog of a chapter for Jaguar, and for the Halewood factory where the barker was built. It was the final joke told prior to the brand's proper rebirth phase – a phase we're enjoying the heck out of today.

Current magnanimous Jaguar owner Tata can be thanked for this new wagon, the XF Sportbrake. Like all newness coming from Jag these days, this new wagon also feels lightyears more serious an offering, ready to compete squarely with established premium wagon makers across Europe. A Jaguar wagon in America is a far-off priority for the company, frankly. Still we deserve to know what we're missing for the time being from this (sometimes overly) cherished British firm.


I was given a right-hand-drive 3.0-liter turbodiesel XF Sportbrake. Jaguar currently offers only diesel powerplants in the wagon due to the European market buying nearly 100 percent of its wagon bodies with the far more efficient powerplants. And on the 40 miles from Welshpool over to Bala at the edge of Wales' Snowdonia National Park, there's some driving to be done.

Driving Notes

The very good folks of Jaguar's UK offices met me in the middle of just about nowhere for this special, short, but sweet drive cross the mossy hills. I hadn't yet been able to drive a Jaguar XF Sportbrake – a car that sort of came in announced softly and with zero fanfare – but where better to do this than here on its home turf?
What's best about the Jag wagon is that it remains an inherently classy rarity, but thankfully this time Jaguar has really done its legwork. As with the distinctive feel of the big XJ sedan, this XF wagon is completely Jaguar-esque and not easily likened to others.
The sweetest surprise was exactly how much fun it was to drive, thundering over hill and dale in a land of seemingly no traffic. This 3.0-liter turbodiesel V6 is Euro-wag paradise and I was soon chucking it around as though it weighed 500 pounds less, and had one fewer rows of seats.
Granted, with this big motor I also got the eight-speed automatic. But there's nothing sluggish about this combo on a family hauler capable of hitting 60 miles per hour in 6.1 seconds or less. It certainly felt like less; the throttle response was really good.
There is up to 59.2 cubic feet of cargo space available when obeying all regulations to keep the windows clear for visibility. Load the XF Sportbrake like a college kid might, and who knows the true volume in this gaping space. With the seats in place, five adults have plenty of headroom and enough legroom.
The standard 20-inch wheels aboard my diesel S model transmitted surprisingly little road noise into the ample cabin, and same can be said for the two large-mouth exhaust tips. Fiddling with the Jaguar Drive Control via the rheostat selector is as easy as ever, even though I am not in love with the gratuitous spectacle of said selector rising up out of the "stage" every time I ignite the engine. Feels a tad 1970s to me.
I was slightly wrapped up in the drive and unaware of exactly how spirited it may have been, until the Jaguar PR maestro with me said, "Well, I can sort of tell that you're enjoying yourself." I truly was, like rarely before in the more civilian trim Jags.
Doing all of this and getting a return of something like 35 miles per gallon on average got me starting in on that old whine: "Why can't we get this brilliant sporty highway cruiser/hauler in the States?" It may be a wee bit too Euro, I understand, but this sophisticated low-revving style of sporting practicality, with a handsome exterior, suits me very well.
As of right now, the XF Sportbrake is exclusively for European sale, hence the current two-engine diesel range. For the North American market, the next big push after the F-Type convertible and coupe (the latter based on the ultra-sexy C-X16 concept car) is the crossover/SUV, reportedly due out in 2016.


Vital Stats
Engine:

Diesel 3.0L V6

Power:

271 HP / 443 LB-FT

Transmission:

8-Speed Auto

0-60 Time:

6.1 Seconds (est.)

Drivetrain:

Rear-Wheel Drive

Curb Weight:

4,145 LBS

Seating:

2+3

MPG:

27 City / 43 HWY (est.)

As-Tested Price:

$49,000 (est.)
---
By Matt Davis
---
See also: Which is hotter, Lana Del Rey or the Jaguar F-Type?, Jaguar F-Type US order guide loose online, First Ride: 2014 Jaguar F-Type [w/video].