2013 Ford Explorer Sport
Thu, 04 Apr 2013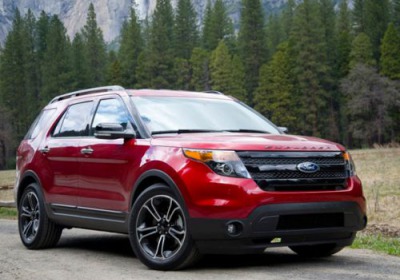 When one speaks of sporty and fun-to-drive utility vehicles, few would put the Ford Explorer in the same category as the Jeep Grand Cherokee SRT8, BMW X5 or Porsche Cayenne. Yet, with just a few reservations, I'd toss the new-for-2013 Ford Explorer Sport close to that arena for consideration.

As a recap, the sportiest of Explorers is fitted with Ford's twin-turbocharged 3.5-liter Ecoboost V6, making 365 horsepower and 350 pound feet of torque. Acceleration is brisk (figure about 7 seconds to 60 miles per hour), as power goes to all four wheels through a six-speed automatic transmission. Contributing to its more athletic demeanor are larger front brakes, a sport-tuned suspension, chassis upgrades, quicker steering ratio and a more aggressive wheel/tire package. Cosmetically, the Sport is distinguished by its blacked-out lights, black trim and noticeable lack of chrome (with the exception of the door handles).

Ford recently handed me the keys to a Ruby Red Metallic Explorer Sport. Rather than mindlessly drive the big seven-passenger all-wheel drive hauler in soccer mom circles around Los Angeles, I loaded up my family and embarked on a long weekend road trip to Yosemite National Park.


Driving Notes

Despite a passenger load of four and a hotel suite worth of associated luggage and travel paraphernalia (pillows, blankets, iPads, Nintendo DS, etc...) there was still plenty of room remaining within the Explorer's cabin. Nobody complained about a lack of shoulder room, legroom or a need for more personal space. Acknowledging today's digital needs, an assortment of outlets (including lighter plugs, USB and 110v household) meant everyone was able to keep their electronic devices charged while on the road.
Power from the 3.5-liter Ecoboost was strong under nearly every driving condition, but I came to loath the significant torque steer off the line. If the throttle was floored while pulling away at a corner, the inside front wheel would briefly spin – absolutely maddening – revealing the Achilles Heel of its front-biased "Terrain Management" all-wheel drive system.
Fuel economy was surprisingly good. Total trip distance was 691 miles. During the highway portions, where I cruised mostly between 70-75 mph, the Ford averaged 22.6 miles per gallon. During the climb into Yosemite, driving the scenic valley and climbing back out, the onboard computer registered 20.4 mpg. We never dropped into the teens.
The Explorer Sport drove like a big front-wheel drive sedan. Even with the firmer suspension matching European touring levels, there was nary a complaint about harshness or ride quality from my family. Straight-line stability at high speed was excellent, and the cabin was acoustically quiet, making long-distance travel effortless. The tight route into Yosemite, on twisty California 41, was a pleasure thanks to the Sport's accurate (but lifeless) steering, lack of body roll and high level of grip – no squealing tires. Much to the dismay of my passengers, I enjoyed mile-after-mile of this slalom exercise.
Everyone found the MyFord Touch interface infuriating. Aside from the unattractive finger prints on its screen and its unintuitive interface (why does it require a series of inputs for even the most basic of functions?) the touchscreen was difficult to use while driving and it didn't always immediately respond. The capacitive-touch interface controlling the audio and HVAC was even more frustrating. My radar detector and iPhone cable kept brushing against the buttons and eerily changing the cabin settings. To circumvent the annoyance, I wrapped the cords awkwardly around the wiper stalk.
In the category of other gripes, I found the exterior mirrors were too small for a vehicle of this size. Even with the assistance of Ford's Blind Spot Information System (BLIS), I was constantly moving my upper torso around in the seat to double-check blind spots and surrounding traffic. Plus, the halogen projector-beam headlights were inadequate and dim, especially at higher speeds. My thumbs were too big for the steering wheel controls (causing a few accidental phone calls) and the vents don't allow the air to be deflected upward.
Nevertheless, the good greatly outweighed the gripes during our trip, and it left us all with a new appreciation for Ford's unibody utility. While its doesn't possess the Olympic muscle or agility of an SRT8, X5 or Cayenne – I never assumed it would – the Explorer Sport is as comfortable, competent and athletic as any family will ever need on public roads. It goes on my recommended list.
Vital Stats
Engine:

Twin-turbo 3.5L V6

Power:

365 HP / 350 LB-FT

Transmission:

6-Speed Auto

0-60 Time:

7.0 Seconds (est.)

Drivetrain:

All-Wheel Drive

Curb Weight:

4,921 LBS

Towing:

5,000 LBS

Seating:

2+3+2

Cargo:

80.7 CU-FT

MPG:

16 City / 22 HWY

Base Price:

$40,780

As-Tested Price:

$46,640
---
By Michael Harley
---
See also: Ford reveals concept trucks that ultimately became Atlas, Autoblog Podcast #327, Ford to show special edition Raptor on April 9.