Califoria Original, 1984 Chevy El Camino, Gorgeous Car! 100% Rust Free, Nice!!!! on 2040-cars
Year:1984 Mileage:125469 Color: Blue/Silver /
Grey
Location:
Los Angeles, California, United States
Transmission:Automatic
Body Type:Pickup Truck
Engine:5.0L V8 4BBL
Vehicle Title:Clear
Fuel Type:Gasoline

Condition:
Used
VIN (Vehicle Identification Number): 1GCCW80H0ER126622
Year: 1984
Interior Color: Grey
Make: Chevrolet
Number of Cylinders: 8
Model: El Camino
Trim: Custom
Drive Type: rwd
Power Options: Air Conditioning, Power Locks, Power Windows
Mileage: 125,469
Sub Model: California
Warranty: Vehicle does NOT have an existing warranty
Exterior Color: Blue/Silver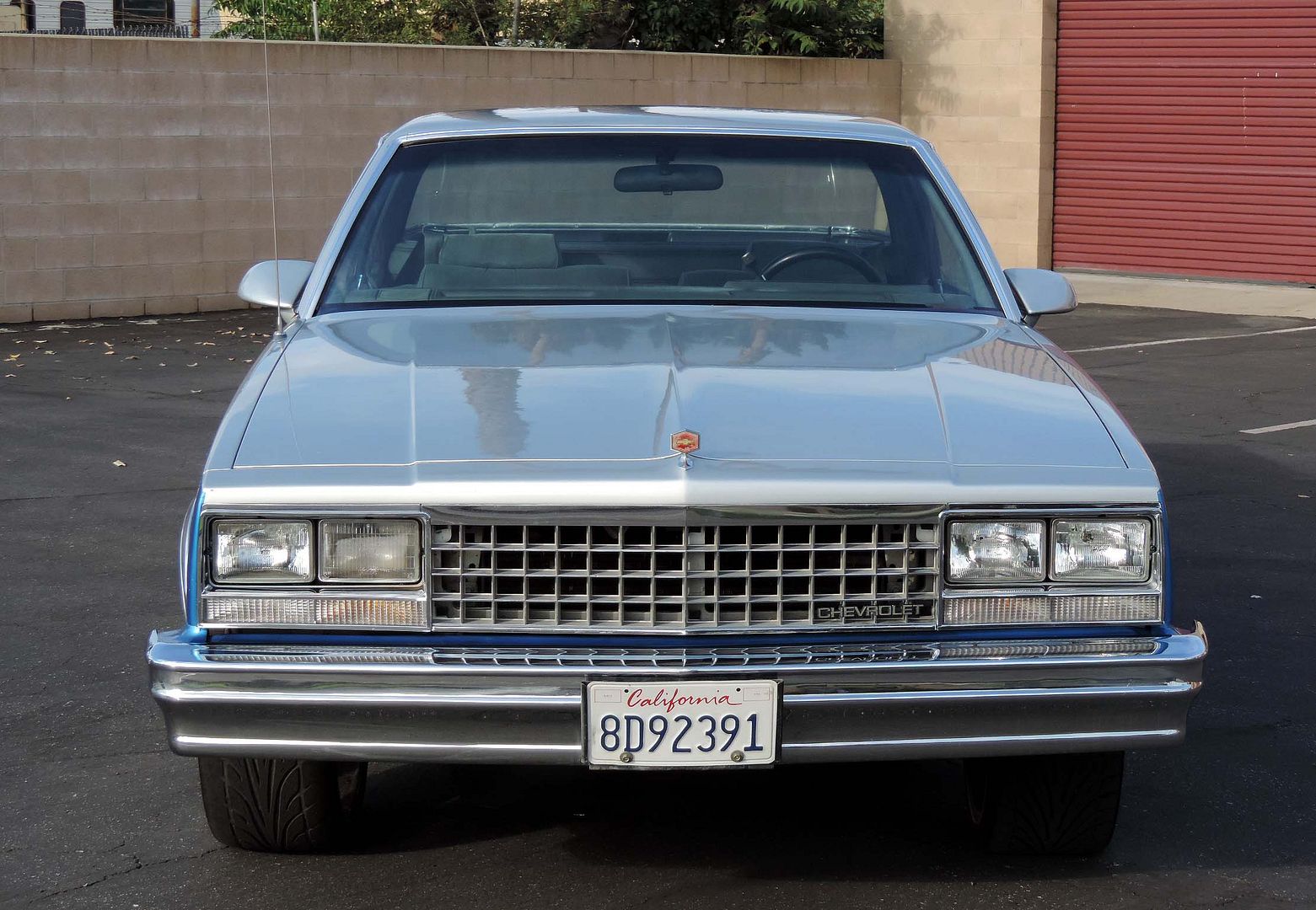 This is a stunning 100% rust free 1984 Chevy El Camino with overdrive.
The car is a California survivor and has been here since new.
The engine starts right up and runs extremely well.
Perfect auto check and Carfax history report. 23-46 is average score for similar vehicles. This car scored a 46.
-The car has 125,469 original miles. She is in excellent condition and runs extremely well
-Accelerates positively and has a lot of torque
-The transmission shifts on the mark through all the gears
-No leaks, smoke, overheating or strange noises. A+++
-Brakes A+
-Steering and suspension A+
-All mechanical, electrical and climate control systems are in tip top condition.
-The entire drivetrain is solid and tight
-The air conditioning blows strong cold air.
-Dual high quality exhaust system
Cosmetically:
-The car is 100% rust free (body, chassis and frame) and has been in California since new.
-Gorgeous custom paint. Their are of course minor nicks, chips, dings, etc. The overall appearance is outstanding!
-"20 inch beautiful chrome Iroc's
-Excellent chrome
-The interior is in excellent condition (see pics)
-Perfect dash and instrumentation
-Beautiful console
-Near perfect door panels, headliner and carpeting
-Very nice sound system
This is one of the nicest El Camino's we have seen or had. The new owner will be pleased with the exceptional overall condition.
This car also available for sale locally and is subject to removal from the auction at anytime should it be sold. If you have any questions call Evan at 310-594-4224 or email. Shipping can be arranged worldwide. Thanks for looking!
Sale is final at close of auction
Seller reserves the right to end auction early.
No contingencies of any kind, no re-negotiations
We make great effort to disclose imperfections so that you know exactly what you are buying. However, bear in mind that you are purchasing a

pre

-owned vehicle and, in some cases, it will have minor imperfections, both in its cosmetic and/or mechanical condition. For this reason, our vehicles are sold "as is", "where is" and without warranty, unless otherwise noted. We encourage

pre

-purchase on-site inspections. Purchasers bear all inspection fees and charges. You may also want to have the vehicle checked out by a third-party inspector of your choice.

The successful high bidder should contact Cali Auto Brokers by telephone within 24 hours, or the next business day, after the auction has ended to make arrangements to complete the transaction. If we do not hear from you, the vehicle may be sold to other potential buyers on a first-come, first-serve basis.

Within 48 hours following the end of auction, a 25% deposit to Cali Auto Brokers shall be sent in the form of cashiers-check or certified funds. If a deposit is not received, and an alternate arrangement has not been made, the vehicle may be sold to other potential buyers on a first-come, first-serve basis.

The transaction must be completed within FIVE business days of the auction end. If not, and an alternative arrangement has not been made, the vehicle may be sold to other potential buyers on a first-come, first-serve basis.

Every vehicle we list has a clean title (unless otherwise noted and disclosed).

Buyer is responsible for Tax, Title, and Documentary Fees. Any disputes regarding the sale of this vehicle shall be resolved through arbitration in California,

Los

Angeles

under the laws of California.

Notice: If you do not intend to buy this item please, DO NOT BID! Shill bidding, auction interference, unqualified bidding, or any form of fraud or harassment are subject to legal prosecution.

By bidding and winning this auction, you are entering into a legal and binding contract to purchase the vehicle described above as outlined in the User Agreement that you accepted when you registered as an eBay Community Member.
Buyer is responsible for shipping costs, unless otherwise noted within this auction.

Buyer Pickup: Buyers may also be picked up by our staff anywhere in the greater

Los

Angeles

area. Buyers will not be reimbursed for any fees or charges incurred if he/she chooses other forms of customer pickup (taxi, shuttle, bus, etc.).
Payment types: We accept wire-transfer, cashiers check and money orders
Financing: we do NOT Finance.
Escrow: We do NOT accept escrow.

Evan

Phone: 310.594.4224
Chevrolet El Camino for Sale
Auto Services in California
New Car Dealers, Used Car Dealers, Wholesale Used Car Dealers
Address: 225 Tank Farm Rd Ste B2, Shell-Beach
Phone: (805) 541-9823
---
Auto Repair & Service, Automobile Machine Shop, Engine Rebuilding & Exchange
Address: 229 Empire Ave, Ceres
Phone: (209) 578-5654
---
Auto Repair & Service, Automobile Inspection Stations & Services, Gas Stations
Address: 208 Main St, Knights-Landing
Phone: (530) 662-5253
---
Auto Repair & Service, New Car Dealers, Automobile Parts & Supplies
Address: 1680 E Main St, North-Highlands
Phone: (888) 969-7133
---
Auto Repair & Service, Automobile Body Repairing & Painting
Address: 7542 Warner Ave # 104, Midway-City
Phone: (714) 842-3161
---
Auto Repair & Service, Brake Repair, Tire Dealers
Address: 801 E Ball Rd, Rowland-Heights
Phone: (714) 533-1152
---
Auto blog
Mon, 27 May 2013
If the 2013 Indy 500 were a movie it would be the one expected to win all the little statues come awards season, and if it were an athlete it would have made spectators watch in awe as it broke record after record. And this kind of talk comes after last year's race was considered one of the best ever - the last lap hijinks in 2012 and Takuma Sato's crash leading to a podium ceremony straight out of a Golden Globes tearjerker.
But this year's race delivered more than anyone expected, from the 250,000 fans to the commentators to the IndyCar series itself and, finally, to the guy who hopped through a two-mile window on Lap 197 to take the lead and keep it until the end.
Tue, 27 Nov 2012
Kelley Blue Book announced its annual Best Resale Value Award winners, and we weren't too surprised to see the list dominated by Japanese automakers - mainly Toyota and Honda. KBB hands out the awards based on the projected residual value of mostly all 2013 model year vehicles, and Toyota skated home with a number of awards including 10 of the 22 overall categories and having five of its products in the top 10 for models with best resale value. KBB's Best Resale Value Awards were announced in the same week as the ALG Residual Value Awards, and there were many similarities between both lists, especially when it came to Toyota.
To come up with its winners, KBB measures depreciation over the first five years of ownership, and looks for the cars it expects to hold its value the best after this time; on average, the report says the 2013 model year vehicles will lose 61.8 percent of its value in five years. Of the 22 categories, 15 slots were filled by Toyota, Honda and Nissan products, while the Camaro and Porsche (Cayenne and Panamera) each took home a pair of awards. If Toyota has anything to be upset about in this list of cars, it's that categories for Hybrid/Alternative Energy Car and Electric Vehicle went to the Ford Fusion and Chevrolet Volt, respectively.
The overall top 10 models for the best resale value in 2013 are, in alphabetical order:
Fri, 25 Jan 2013
The 2014 Chevrolet Corvette really grinds Peter De Lorenzo's gears. Or, more accurately, the self-anointed Auto Extremist has an issue with what he sees as mismanagement of the legendary sports car by General Motors executives. In a new editorial on his website, De Lorenzo argues it's time to split Corvette off from Chevrolet to create an all-new brand, complete with a model range with at least three new takes on the sports car. Capable of fully leveraging the successes of the Corvette Racing program and brandishing the full might of GM's technical prowess, the Corvette brand would theoretically give Porsche something to sweat over.
Sure, that sounds like a party, but given GM's troubled track record when it comes to launching (let alone managing) brands, we say that's slippery slope that could just as easily end with the whole Corvette franchise in the scrap bin. Either way, the notion is certainly an interesting one. Head over to Auto Extremist to take in the full editorial, and then let us know what you think in Comments. Should GM split off its most storied nameplate?
View Poll