Charity supercar run results in 3 Lamborghinis going up in flames
Sat, 07 Dec 2013 19:31:00 EST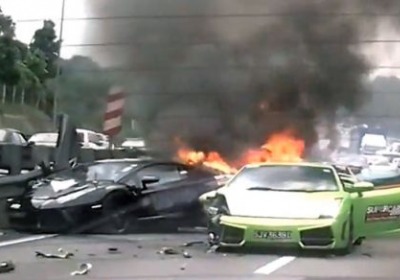 A charity drive in Singapore went quite awry when a convoy of Lamborghinis smashed into each other on one of the city-state's highways, with one of the cars catching fire. And while it's easy to assume that the supercars were at fault, initial reports contradict that assumption.

It turns out the crash was a chain reaction set off by a local driver swerving toward two Gallardos and an Aventador, sending the latter into the guard rail and causing it to go up in flames. According to the report on CarBuzz, there were no injuries in the incident, although the circumstances - super cars burning in the midst of a charity event - draw some parallels to the tragic accident involving Paul Walker and Roger Rodas.

There's a short video taken after the wreck that can be viewed below. CarBuzz also has a few different images of the accident, aside from the screencap shown above.



---
By Brandon Turkus
---
See also: Lamborghini's Lock out as American COO, Lamborghini Veneno Roadster stands in for fighter jet aboard Italian carrier, Lamborghini to announce new Cabrera before Christmas.