Ward's reveals annual 10 Best Engines list for 2013
Thu, 13 Dec 2012 10:01:00 EST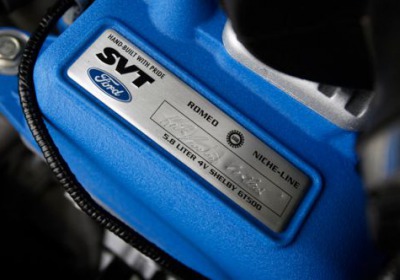 Ward's Auto has released its annual 10 Best Engines award winners. The 2013 list covers the full width and breadth of the internal combustion spectrum, from a spate of efficient four-cylinders to the most powerful production V8 on the planet. As always, the entries must be available in a production vehicle in the first quarter of 2013 with an MSRP of less than $55,000. The supercharged 3.0-liter V6 from the Audi S5 held on for the fourth consecutive year, and BMW earned two spots on the list with its turbo 2.0-liter four-cylinder and turbo 3.0-liter inline-six.

Ford pulled in two awards for its 2.0-liter EcoBoost four-cylinder and and the supercharged 5.8-liter V8 from the Shelby GT500. Honda matched BMW and Ford with two wins of its own. Wards awarded the 2.4-liter four-cylinder from the Honda Accord Sport as well as the 3.5-liter V6 from the Honda Accord. Chrysler, General Motors and Subaru each garnered a spot on the list as well for the 3.6-liter V6 in the Ram 1500, the turbo 2.0-liter four-cylinder in the Cadillac ATS and the 2.0-liter four-cylinder the Subaru BRZ, respectively. You can read the full press release below for more information.

Ward's 10 Best Engines of 2013 Announced

Judges impressed by innovative new gasoline engines over plug-in hybrids or all-electrics

SOUTHFIELD, Mich., Dec. 12, 2012 /PRNewswire/ -- Ward's 10 Best Engines, the premiere industry honors for car and light truck engines, have been announced for 2013. For the first time in seven years, the list is comprised entirely of gasoline-powered engines, with no hybrid, all-electric or diesel powertrains to be found.

While this result might seem to go against the grain of the industry's push into alternative fuels and propulsion systems, WardsAuto editors who judged the awards see the list as proof there is significant innovation still happening in the development of traditional gasoline engines, making them more fuel-efficient and refined than ever.

"We're always excited to see the advancements being made in hybrids and all-electric vehicles," says Drew Winter, editor-in-chief of WardsAuto World magazine. "But there are still significant barriers for the average consumer to look past when considering these vehicles. The cost for most of them remains high, and the driving ranges of the battery electric vehicles will have to be extended to meet the needs of most people."

Instead, the WardsAuto judges found significant innovations in fuel efficiency and overall refinement in the traditional gasoline engines that power the majority of vehicles that will be on the road for the foreseeable future.

Now in its 19th year, the Ward's 10 Best Engines competition recognizes the latest powertrain technologies that are affordable to most consumers, boost horsepower and torque, are highly efficient, sound appealing and pair up well with their respective vehicles. This year's winners (and the vehicles tested) are:

3.0L TFSI Supercharged DOHC V-6 (Audi S5)
2.0L N20 Turbocharged DOHC I-4 (BMW 328i)
3.0L N55 Turbocharged DOHC I-6 (BMW 135is coupe)
3.6L Pentastar DOHC V-6 (Ram 1500)
2.0L EcoBoost DOHC I-4 (Ford Focus ST/Taurus)
5.8L Supercharged DOHC V-8 (Ford Shelby GT500)
2.0L Turbocharged DOHC I-4 (Cadillac ATS)
2.4L DOHC I-4 (Honda Accord Sport)
3.5L SOHC V-6 (Honda Accord)
2.0L FA DOHC H-4 Boxer (Subaru BRZ)

WardsAuto editors chose the winners after spending October through early December driving 40 vehicles in their routine daily commutes around metro Detroit. Editors scored each engine based on power, technology, observed fuel economy and noise, vibration and harshness characteristics. There is no instrumented testing. To be eligible, each engine must be available in a regular-production U.S.-specification model on sale no later than first-quarter 2013, in a vehicle with a base price below $55,000. Winners from the 2012 competition were automatically eligible and evaluated against the new engines for 2013.

"The world's automakers are showing no signs in slowing down when it comes to making gasoline engines the best choice for today's and tomorrow's drivers," Winter says. With new technologies such as "stop-start" – which shuts down the engine when a vehicle comes to a stop or idles -- automotive engineers are proving they have no shortage of tricks up their sleeves for reducing fuel consumption and cost of ownership."

More details on the ten winning engines have been posted today to WardsAuto.com. Complete stories and a video package about the Ward's 10 Best Engines will be featured Jan. 7 on WardsAuto.com and in upcoming issues of WardsAuto World digital magazine and the WardsAuto Engine and Technology Update e-newsletter.
---
By Zach Bowman
---
See also: Acura ILX headed for Civic-like early upgrades, 2013 North American Car and Truck/Utility of the Year finalists announced [w/poll], 2013 North American Car and Truck/Utility of the Year finalists announced [w/poll].