Volvo's oldest model earns IIHS Top Safety Pick+ award [w/video]
Thu, 07 Nov 2013 08:28:00 EST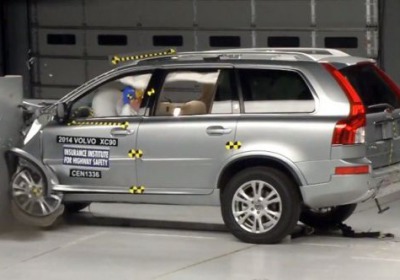 Volvo ought to be tooting its horn over this one. The XC90, an SUV that has essentially been on sale for over 10 years, just captured a Top Safety Pick+ award from the Insurance Institute for Highway Safety. The TSP+ is a new title, reserved for cars that earn "Good" or "Acceptable" ratings on each IIHS crash test.

This is a difficult feat for a new car - Toyota's new Corolla infamously failed to net a Top Safety Pick+ earlier this year - largely because of the new small overlap front tests, which have left many automakers struggling. But Volvo, somehow, was able to conquer the tests with a car that predates the original iPhone by a few years. The XC90 earning a Top Safety Pick+ is like Betty White taking the gold in the decathlon. With Volvo in the midst of working on the XC90's replacement, we're curious to see just how well a more modern version does in crash testing. Take a look down below for the crash test video and a press release from IIHS.




Volvo XC90 earns Institute's top safety award

ARLINGTON, Va. - The 2014 Volvo XC90, a midsize luxury SUV, earns the IIHS TOP SAFETY PICK+ award for good performance in each of the Institute's crashworthiness evaluations, including the small overlap front test.

The XC90's structural performance was good in the small overlap front test, and the driver's space was maintained well. Injury measures recorded on the dummy indicate low risk of any significant injuries in a crash of this severity. The dummy's head made good contact with the front airbag, which stayed in position during the crash. Both the side torso airbag and the side curtain airbag deployed.

The Institute added the small overlap test to its lineup of vehicle safety evaluations last year. It replicates what happens when the front corner of a vehicle strikes another vehicle or an object like a tree or a utility pole. In the test, 25 percent of a vehicle's front end on the driver side strikes a 5-foot-tall rigid barrier at 40 mph. A 50th percentile male Hybrid III dummy is belted in the driver seat.

The XC90 is the third Volvo model to earn the TOP SAFETY PICK+ accolade since the Institute began testing for small overlap protection in 2012. Winners of the 2013 award must earn good ratings for occupant protection in 4 of 5 evaluations and no less than acceptable in the fifth test. While many vehicles have had to undergo significant structural changes to earn good ratings in the small overlap test, the XC90 has had the same basic platform since 2003.
---
By Brandon Turkus
---
See also: Volvo will replace C70... eventually, Volvo's plan for China: sell them on the clean air inside the car, Volvo finds a way to turn body panels into batteries [w/video].