Twin LaFerraris roar around Fiorano
Wed, 18 Sep 2013 19:00:00 EST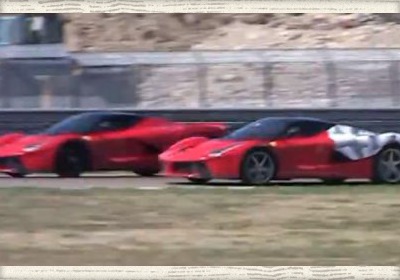 What could possibly be better than a Ferrari LaFerrari running at full clip on the Italian brand's Fiorano test track? The answer is obviously two LaFerraris, both doing hot laps. So far as we know, this is the first time we've had an unadulterated listen - outside of the car, that is - to the latest Ferrari hypercar when it's being ran hard. There's no voiceover or music, just that righteous, hybridized V12.

We're told that the first LaFerrari, without camo, is a production model, while the other car is said to be testing a different exhaust setup. It sounds slightly different, and according to the videographer, it was noticeably louder than the production car. Take a look below for the full 2:48 of Italian V12 noise.



---
By Brandon Turkus
---
See also: F1 2013 Classic Edition to make Lauda's 1976 Ferrari playable, Mansory La Revoluzione shows at least a little restraint, Kimi Raikkonen returns to Ferrari.