This classic Jaguar XJ has a 720-hp ungentlemanly secret
Tue, 19 Nov 2013 14:58:00 EST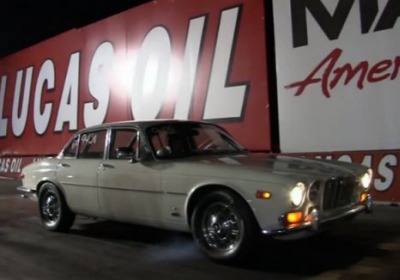 Forget Tawny Kitaen. If you want to make a Jaguar XJ rock, just do what this guy did: stuff a heavily modified and turbocharged General Motors V8 under the hood, and take it to the track.

The video calls this Series 1 XJ a sleeper, but with its open exhaust and obvious turbo whistle, the once-gentlemanly sedan is anything but. The owner says that the engine is GM LQ9 V8 that has been stroked to 402 cubic inches putting out around 720 horsepower with 12 pounds of boost (in standard form, this 6.0-liter V8 was used in the second-gen Cadillac Escalade). Check out the video below to see what that kind of power does for this classic Jaguar in the eighth-mile.



---
By Jeffrey N. Ross
---
See also: Jaguar ousts Lexus from atop J.D. Power 2013 Sales Satisfaction Index, Road & Track names its 2013 Performance Car of the Year, 2014 Jaguar F-Type V8 S [w/video].