Scion FR-S pitted against oldtimers RX-8 and S2000
Tue, 07 May 2013 19:59:00 EST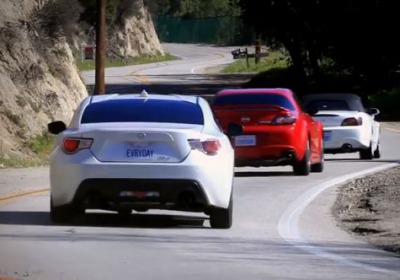 There are very few vehicles available today that compare directly with the Scion FR-S and Subaru BRZ twins. A case could be made for the Mazda MX-5 Miata, and possibly even six-cylinder versions of American coupes like the Ford Mustang. Pretty much everything else is either too expensive or is powered by the wrong set of wheels.

The boys from EverydayDriver on YouTube decided the only fair way to judge the inherent qualities of the Toyobaru twins was to pit them against two standard-bearers of years past: The Honda S2000 and Mazda RX-8. Neither of these cars is an exact matchup, with the Honda boasting a convertible top and the RX-8 offering more practicality via a rear seat and two reverse-opening doors for easier access. What they do offer, however, are similar performance stats and proven reputations for excellent handling.

None of this talk answers the real question, though: Which one wins the comparison test? Scroll down to watch the video, and be prepared for something of a surprise conclusion.



---
By Jeremy Korzeniewski
---
See also: Red Bull RX-7 goes drift crazy on New Zealand's Crown Range, Honda invests $470 million for new transmission plant in Mexico, Mazda reveals new 'Game Changers' advertising campaign.