Redonkulous Dodge Charger is ridin' high
Wed, 18 Sep 2013 19:58:00 EST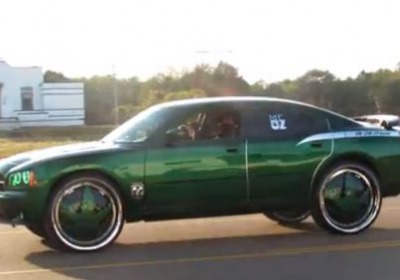 We're a bit hazy on the styling of this particular donk, which was recently spotted hashing about by HotCarsTV at the Southern Heritage Classic Car show in Memphis. Sporting a dope paint job and some wheels that make a blunt statement about what the driver enjoys, it's a unique take on the popular customizing trend.

The owner may be kiefing it real with the theme on this Dodge Charger, but when your car looks like this, it's easy to weed out from the crowd. Chronic police stops must also make it a pain to drive on a regular basis, though. Even with the big wheels, we bet the driver still finds time to light 'em up. Take a look down below for a brief video of this outrageous mean green machine on the road.



---
By Brandon Turkus
---
See also: Dodge not being dropped by Chrysler, CEO reaffirms, Edmunds ranks the best used cars for 2013, eGarage interviews a couple with 65 Vipers.