Production Mini Rocketman still in the cards, but not without a partner
Mon, 02 Dec 2013 18:01:00 EST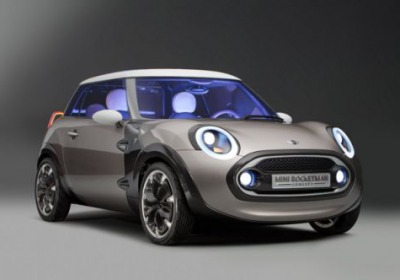 There's not really any way around it - the new Mini Hardtop isn't all that mini. Considering its supposed to be the smallest model in the brand's lineup, this is hardly desirable. It's good news, then, that rumors are cropping up of a smaller Mini, based on the well-received Rocketman Concept that debuted in 2011 at the Geneva Motor Show.

The report, which comes from our friends at AutoGuide, claims that a production Rocketman is still on the radar of Mini's product chief, Pat McKenna, despite being officially on hold. As Mckenna explained it to AG, "the only way it would happen would be if it was a partnership with another company."

See, the problem is that Mini's current UKL platform, which underpins the new Hardtop along with the future Mini range, is too large for the tiny Rocketman. And since developing new platforms isn't as easy as popping down to the shops for a gallon of milk (nor as cheap), it makes the need for an ally to split the costs a necessity. Success, so far, has been limited.

Mini's failure to find a partner isn't for lack of trying, though, with McKenna telling AutoGuide that the brand's "emphasis on driving performance," has kept it from finding a chassis that was up to the brand's expectations.

This begs the question of which brand is the right fit for Mini, not just in the US market, but around the globe (McKenna himself indicated that the Rocketman would fit into Mini's international operations well). Mini's partnership with Peugeot on the last-generation's turbocharged engine, not to mention the French brand's small-car expertise, could make it a logical partner.
---
By Brandon Turkus
---
See also: Mini could go even bigger with next Countryman, 2015 Mini Cooper stuns crowd, itself [w/videos], Jaguar ousts Lexus from atop J.D. Power 2013 Sales Satisfaction Index.