Porsche 911 RSR in bizarre, terrifying rally crash
Sun, 22 Sep 2013 19:06:00 EST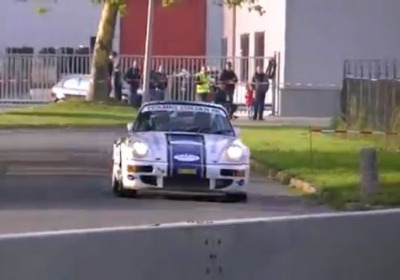 As far as rally crashes go, this one is pretty terrifying. At this month's Hellendoorn Rally, Harry Kleinjan failed to negotiate a turn and drove his Porsche 911 RSR straight into a Jersey barrier, flipping the car into the river.

While it's unclear what caused the accident, German Car Scene notes, "We can see his brakes locking up ahead of the impact, which also ripped both driver's side wheels off, so it may be a case of ill-judged late braking, locking brakes or a jammed throttle." Us? We're betting it might have been bad pace notes. Fortunately for Harry and his co-driver, all indications are that no one was hurt. Check out the videos below to see the spectacular crash for yourself.







---
By Lauren DeAngelis Puckett
---
See also: Porsche tuners 9ff, SpeedArt going bankrupt, Porsche 918 Spyder could lap the 'Ring even quicker [w/video], Porsche teams with Delta airlines to woo VIP passengers.