Nissan poaches Ram CEO Fred Diaz
Sat, 13 Apr 2013 09:00:00 EST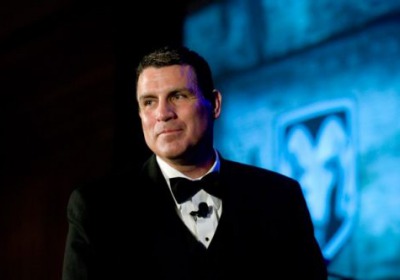 Nissan has announced that it has hired Fred Diaz as its new divisional vice president of sales and marketing. With the appointment, Diaz unexpected exits his post as president and CEO of Chrysler's Ram brand, a position he has held since 2009 when the brand was created as a separate entity from Dodge. He was also president and CEO of Chrysler de Mexico.

Nissan issued a press released – posted below – in which it says that Diaz's newly formed position will be responsible for the day-to-day operations of the brand in the US, including such facets as sales, marketing, parts and service, along with administrative matters. In addition, he will lead Nissan's light commercial vehicle and fleet division, likely a key attraction with his Ram background.

Chrysler has yet to name a replacement for Diaz.


Fred M. Diaz Named Divisional Vice President, Nissan Sales & Marketing for Nissan Division in the U.S.

NASHVILLE, Tenn. – Nissan today announced that Fred M. Diaz has been named to the newly formed position of divisional vice president, Nissan Sales & Marketing, Nissan U.S., reporting to José Muñoz, senior vice president, Sales & Marketing, Customer Quality and Dealer Network Development, Nissan Americas. Most recently, Diaz was president and chief executive officer - Ram Truck Brand, Chrysler Group, LLC as well as president and chief executive officer, Chrysler de Mexico.

In this new leadership role, Diaz will assume full responsibility for the day-to-day operations of the Nissan Division in the United States, including all sales, marketing, fixed operations, parts and service and administration functions. He will lead the Nissan Division team with the Marketing, Light Commercial Vehicle & Fleet, Parts & Service and Regional Operations functions reporting directly to him.

"Fred Diaz is one of the most experienced, results-driven sales and marketing executives in our industry, and we are privileged to welcome him to Nissan," said Muñoz. "As Nissan Division continues to grow in the United States, we expect Fred to convey a fresh perspective to our dealers and the entire divisional operations team that he will now lead."

Previously, Diaz was Chrysler's chief executive in charge of the Ram Truck Brand, a position to which he was named in October 2009. In 2011, Diaz was appointed as the chief executive of Chrysler's Mexican operations where he was the corporate representative responsible for all of the company's business brands in Mexico, including Chrysler, Jeep, Dodge, Ram and Mitsubishi.

During his 24-year career at Chrysler, Diaz progressed through a series of sales company roles beginning as a trainee and zone manager through to the head of national sales and, ultimately, CEO of the Ram brand. He has extensive automotive experience across the sales, field operations, distribution, service and marketing arenas.

Diaz is a respected executive in the automotive industry who has overseen a period of tremendous growth at the Ram brand. In addition to the Ram brand's 17 percent sales increase in 2012, he was instrumental in leading the brand to win the 2013 'North American Truck of the Year' award for the new Ram 1500 pickup truck.

Diaz earned a bachelor's degree in management with an emphasis in psychology from Texas Lutheran University and a master's degree in business management from Central Michigan University.

About Nissan North America
In North America, Nissan's operations include automotive styling, engineering, consumer and corporate financing, sales and marketing, distribution and manufacturing. Nissan is dedicated to improving the environment under the Nissan Green Program and has been recognized as an ENERGY STAR® Partner of the Year in 2010, 2011, and 2012 by the U.S Environmental Protection Agency. More information on Nissan in North America and the complete line of Nissan and Infiniti vehicles can be found online at www.NissanUSA.com and www.InfinitiUSA.com, or visit the Americas media sites NissanNews.com and InfinitiNews.com.

About Nissan
Nissan Motor Co., Ltd., Japan's second-largest automotive company, is headquartered in Yokohama, Japan, and is part of the Renault-Nissan Alliance. Operating with more than 248,000 employees globally, Nissan provided customers with more than 4.9 million vehicles in 2012, generating revenue of 9.4 trillion yen ($US118.95 billion) in fiscal 2011. With a strong commitment to developing exciting and innovative products for all, Nissan delivers a comprehensive range of 64 models under the Nissan and Infiniti brands. A pioneer in zero-emission mobility, Nissan made history with the introduction of the Nissan LEAF, the first affordable, mass-market, pure-electric vehicle and winner of numerous international accolades, including the prestigious 2011-2012 Car of the Year Japan and 2011 World Car of the Year awards.
---
By Jeffrey N. Ross
---
See also: Toyota, Honda, Mazda and Nissan recall 3.4 million vehicles for faulty airbags, Nissan GT-R goes 183 mph on ice in Russia, Nissan gives us the business on the art of clay modeling.