Next-gen Ford Cobra Jet development underway, but will it be a Mustang?
Wed, 09 Oct 2013 10:02:00 EST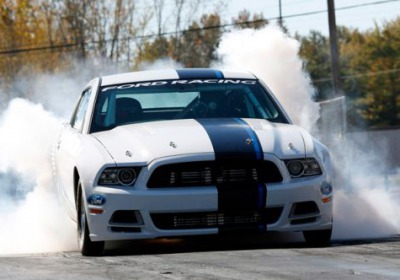 Ford might be stepping away from the NHRA, but it isn't abandoning drag racing altogether. Hot Rod says that Ford confirmed a next-gen Cobra Jet factory drag racer is in the works, but the report also speculates that a new Cobra Jet could switch away from the Mustang nameplate.

Even though talk of a new Cobra Jet coincides with the all-new 2015 Mustang, the lack of confirmation for the dragster's platform leaves Hot Rod to guess that the car might switch to another platform – specifically a front-drive-based, unibody car like the Fusion or Taurus. We'd hate to think of a world with a NASCAR-ized dragster from Ford Racing, but it's also highly unlikely that the Mustang Cobra Jet would step away from its quarter-mile rivals like the Chevy COPO Camaro and Dodge Challenger Drag Pak.
---
By Jeffrey N. Ross
---
See also: How and why Ford is rolling out Vignale in Europe, Ford recalling nearly 24,000 Focus EV and C-Max models over door chime, Why Ford's Alan Mulally would be right for Microsoft, or any company.