Kit Cat: Mercury Cougar makes perfect Bugatti Veyron substitute
Thu, 24 Feb 2011 14:29:00 EST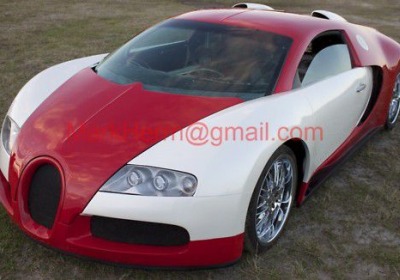 Bugatti Veyron kit car - Click above for high-res image gallery

If you've got a pulse in your wrist and a snapping brain cell in your head, chances are you wouldn't mind parking a Bugatti Veyron in your garage. But for most mere mortals, scrounging up the cash for a physics-bending piece of 16-cylinder glory would require all sorts of unpalatable tasks. Fortunately for those who want to look the part without having to participate in human trafficking, the kit car universe has stepped in to save the day. All you need is a 1999-2002 Mercury Cougar, a boat load of fiberglass and a little patience.

Oh, and $89,000.

Is that cheaper than an actual Veyron? Sure. Is it $73,000 more than we'd pay for this car? Absolutely. For that low price you'll get all the looks of the Bug with a fraction of the actual performance. Buyers can look forward to a blistering 170 horsepower from a 2.5-liter V6 kicking at the front wheels via a four-speed automatic transmission. Don't expect much else.

This particular machine is up for bid via eBay Motors, with four days left on the auction. Act now.


Related Gallery

Bugatti Veyron kit car

[Sources: PistonHeads, eBayMotors]
---
By Zach Bowman
---
See also: Fitting Retirement: Grand Marquis last Mercury off the line, Report: Lincoln getting all of Mercury's ad dollars, Curtain officially comes down on Mercury as dealers remove signage.