Ken Block ain't got a care about ruining his wheels
Tue, 22 Jan 2013 15:00:00 EST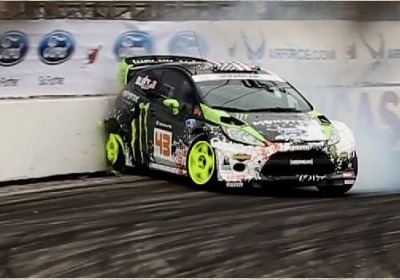 During a drifting session at Irwindale Speedway in California, Ken Block made a boo-boo that would send a number of drivers immediately back to the infield. But there's an answer to "What do you do when you bash the wall while drifting and your wheel explodes?" and there's completely different answer when the question begins with the phrase, "When you're Ken Block..."

Instead of us telling you how Block handled the calamity in his Ford Fiesta competition car, you can watch it happen in the video below. You can probably also guess what it is – but it's more fun to watch.


---
By Jonathon Ramsey
---
See also: George W. Bush's 2009 Ford F-150 fizzles with $300,000 bid at Barrett-Jackson [UPDATE: w/video], Cadillac ELR, Nissan Resonance and Ford Atlas win Eyes on Design awards, Honda giving away free Civics in Forza Horizon to celebrate launch.