Jaguar says F-Type sales off to flying start
Fri, 31 May 2013 14:29:00 EST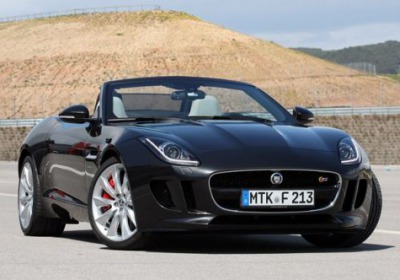 As we noted in our recent first drive, Jaguar's luscious new F-Type roadster is a bit of a tweener in both size and cost, lining up in between rival Porsche's Boxster and 911. That one-for-two-segment strategy is showing early signs of paying off, with Automotive News reporting that half of the car's 2014 production allotment is already sold. We're not talking huge numbers – sports cars in this segment only "have a global annual volume of about 75,000 units and a market share of 0.1 percent," notes Jaguar brand director Adrian Hallmark. Yet the company figures the F-Type will work out to about 15 to 20 percent of its total volume of around 60,000 units.

From where we sit, this is all very encouraging news, but it's way too early to call the F-Type a smash hit. The sports car segment is known for its fickleness and its front-loaded sales curve, so the real measure of success will be how it fares over the next few years after early adopters get their cars. Jaguar will have to work to keep the F-Type fresh with new variants, and we hear it's prepared to do just that. The British luxury marque hasn't confirmed a hardtop coupe variant yet, but patent images and spy shots suggest one is on the way shortly, and it ought to extend the model's appeal greatly. A four-cylinder option and a manual transmission have also been rumored, and presumably Jaguar will eventually launch higher-performance R and R-S variants as it has done with various model lines, including its other sporty two door, the XK grand tourer.
---
By Chris Paukert
---
See also: Jaguar sculpture by RCA design students is a minimal beauty, Jaguar F-Type meets America in first TV spots, Playmate of the Year Raquel Pomplun gets a Jaguar F-Type.