Hyundai i20 WRC gets shakedown in Finland
Fri, 30 Aug 2013 19:27:00 EST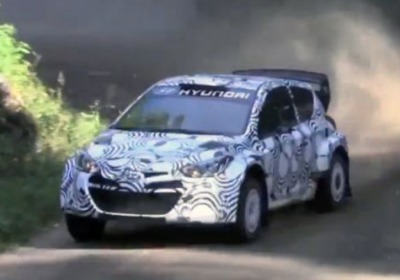 It's always a good day when we get to post a video about rally racing. It's even better when that video is of a new WRC competitor undergoing testing. This spy video shows Hyundai's i20 WRC, a car that debuted nearly one year ago at the 2012 Paris Motor Show. It's set to usher in Hyundai's return to top-flight motorsports, and will do battle with the cars from Citroen, Ford and Volkswagen that are currently contesting the 2013 season.

This video, which shows the i20 testing on the notoriously tough Finnish rally stages, gives the impression that progress on the new WRC contender is going well. It certainly looks fast, and as with the vast majority of rally cars, it sounds absolutely wonderful (listen to some of those gun-shot-like backfires). Take a look below for the whole, glorious three minutes and 20 seconds of unadulterated rally noise, flying dirt and jumping.



---
By Brandon Turkus
---
See also: Hyundai, Kia and U of M studying 'highway hypnosis', What a strike in Korea could mean for US Hyundai and Kia buyers, Hyundai, Kia recall 270,000 cold-weather state vehicles over rust.