Hyundai, Buick dealer apologize in wake of Chinese baby social media incident
Sat, 09 Mar 2013 15:00:00 EST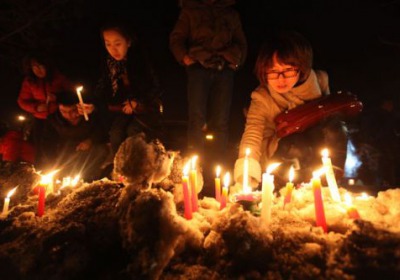 A very strange story out of China today, as Hyundai and a Chinese Buick dealer were forced to face allegations of using allusions to an infamous child murder on a social media site as a way of promoting the safety features of their respective vehicles.

The original sad tale goes something like this: On March 4, a man reported to police that he had left his infant child in a running Toyota RAV4 while he ran into a supermarket briefly. When he came back out, the vehicle and the child were gone. Later in the week a suspect turned himself in to the police; confessing to them that he had stolen a sport-utility vehicle, strangled the infant that was in it, and then buried the child in the snow.

As you might imagine, the gristly incident was covered massively in the Chinese media. (There was huge public outcry as well, as evidenced by the vigil scene, above.) "Changchun baby abduction" was very quickly amongst the highest ranking search teams of the China's Weibo social media site – an equivalent of Twitter in the English-speaking world.

With the scary news trending near its peak, a post on Hyundai's Weibo account touted the safety features of the company's Santa Fe, while also making reference to the child being abducted. In a similar vein, a Chinese Buick dealer posted this on March 5:

"When buying a car it's completely okay to choose brands with better technology. Tianhe Buicks carry the OnStar GPS system, which can track down the location of a stolen vehicle at any time and automatically report it to the police. Feel at ease, have peace of mind, if you're going to buy a car, why not choose a completely safe Buick!!!"

For its part Hyundai claimed that its Weibo post was made by a non-Hyundai employee, and that it would redouble its efforts at "managing our social networking service accounts." The independently owned Buick dealer apologized for making "inappropriate" remarks. Meanwhile a Shanghai-based representative of General Motors said that the company is "monitoring" the situation, and has yet to release a statement.
---
By Seyth Miersma
---
See also: Hyundai teases updated Equus before Big Apple debut, 2013 Hyundai ix35 is a freshened-up Euro-Tucson, Facelifted Hyundai ix35/Tucson shows up.