How could a lifted Mercedes-Benz G63 AMG be more awesome? Add an axle
Fri, 01 Mar 2013 12:45:00 EST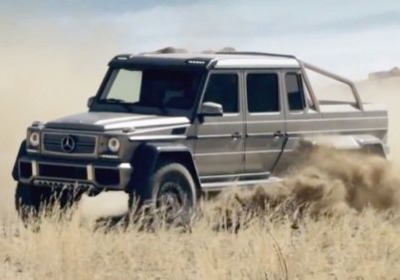 We are fully confident in saying that this will be the most amazing thing you see all day. First of all, it's a Mercedes-Benz G-Wagen – in AMG spec, no less. And it's being shown off in high-definition video glory, blasting through the desert, jumping over sand dunes, and generally being awesome. But here's the kicker: It has six wheels. Three axles. And they're all driven. Holy $%!#.

Under the hood is AMG's usual 5.5-liter twin-turbocharged V8, and total output is rated at 536 horsepower and 560 pound-feet of torque. That's impressive and all, but do keep in mind that the G63 6x6 weighs in at 8,322 pounds or, you know, the weight of two E-Class sedans. Combine that with its 18 inches of ground clearance, 37-inch tires and five locking differentials and you've got a vehicle capable of, well, everything you've ever imagined or will ever imagine for the rest of your life.

But the goodness doesn't stop once you open the doors. Oh, no. This thing is fit for a king – or a sheik, more appropriately – with ultimately luxurious seating for four. The rear bench seat has been removed in favor of two bucket seats with a fixed console in the middle, and the rear seats have been moved back beyond the usual B pillar to allow for more legroom.

According to Autoweek, the G63 AMG 6x6 will actually be for sale. Speaking to the magazine, the the head of G-Class development, Axel Harries, says that the off-road monster will likely be the second-most expensive Mercedes-Benz model, behind the $457,000 SLS Electric Drive. Right now, the automaker is looking to build maybe 20 or 30 units annually.

If the apocalypse is indeed coming, we'll take one of these to ride out the storm. Scroll down to watch a video of the G63 AMG 6x6 blowing your mind.


---
By Steven J. Ewing
---
See also: Brabus to storm Geneva with 800-hp version of Mercedes SL65 AMG, Zetsche's CEO tenure extended through 2016 at Daimler, Erebus Motorsport Mercedes E-Class V8 Supercar completes the field [w/videos].