Erebus Motorsport Mercedes E-Class V8 Supercar completes the field [w/videos]
Sat, 23 Feb 2013 16:59:00 EST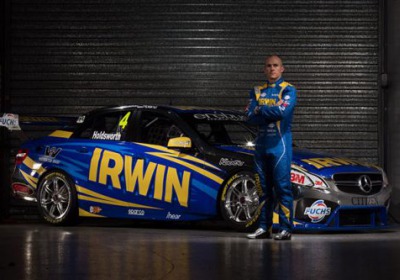 Ford, Holden and Nissan introduced their V8 Supercar challengers a while back. Erebus Motorport, whose racing program got the green light not even 120 days ago, has finally shown off the Mercedes-Benz E-Class racer that will complete this year's field of entries. The first AMG race car ever to be built outside of Germany, it's an Australian-built tube-frame chassis specced to the series' Car of Tomorrow rules, fitted with body panels that channel the E63 AMG.

Supported by AMG Customer Motorsport, the 5.0-liter engine is provided by HWA in Germany, the racing arm of AMG. Regulations dictate that it have roughly 650 horsepower, a redline between 7,000 and 7,500 rpm and a torque curve that matches the parity baseline set for all cars.

Lee Holdsworth, Tim Slade and Maro Engel will drive the three team cars, each with different sponsors. Their first showing will be at the Clipsal 500 on March 3 in Adelaide, here in the US we'll get to see them in May at the Circuit of the Americas. Check out the videos below of the Erebus car starting up at its launch, and footage of all of this year's cars doing pre-season testing on track together.




---
By Jonathon Ramsey
---
See also: Mercedes-Benz S-Class presentation leaked, debuting in May, 2013 Mercedes-Benz SL65 AMG, 2014 Mercedes-Benz E63 AMG S 4Matic [w/video].