GM winding down Chevrolet brand in Europe
Thu, 05 Dec 2013 10:00:00 EST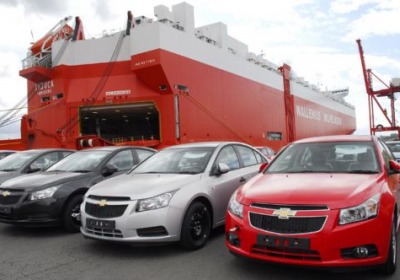 If you've taken even a cursory look at GM's European strategy and wondered how it can target the market there with both Chevrolet and Opel/Vauxhall, you're not alone. In fact General Motors itself has found it difficult to justify the two-pronged approach. That's why it's essentially pulling Chevy from the European marketplace.

Instead of trying to ply European buyers with what are mostly former Daewoo products rebadged as Chevys, GM will now let Opel (or Vauxhall in the UK) represent its mass-market aspirations. Chevrolet will keep its presence in Russia and other former Soviet markets, and will continue selling certain niche products in Eastern and Western Europe. The Corvette, for example, has long been sold in Europe through Cadillac dealerships, which for its part is currently "finalizing plans for expanding in the European market".

While the shift in strategy is expected to help GM get a stronger foothold in the European market in the long run, in the short term the restructuring will cost it dearly: between $700 million and $1 billion, according to its own estimates, split between the last quarter of this year and the first half of the next. Jump into the full press release below for more.

GM Strengthens its European Brand Strategy
2013-12-05

- Opel/Vauxhall to compete as GM's mainstream brands across Europe
- Chevrolet to focus on iconic products in Europe
- Cadillac to expand in Europe

DETROIT – General Motors today announced plans to accelerate its progress in Europe by bolstering its brands in the mainstream and premium segments.

Beginning in 2016, GM will compete in Europe's volume markets under its respected Opel and Vauxhall brands. The company's Chevrolet brand will no longer have a mainstream presence in Western and Eastern Europe, largely due to a challenging business model and the difficult economic situation in Europe.

Chevrolet, the fourth-largest global automotive brand, will instead tailor its presence to offering select iconic vehicles – such as the Corvette – in Western and Eastern Europe, and will continue to have a broad presence in Russia and the Commonwealth of Independent States.

This will improve the Opel and Vauxhall brands and reduce the market complexity associated with having Opel and Chevrolet in Western and Eastern Europe. In Russia and the CIS, the brands are clearly defined and distinguished and, as a result, are more competitive within their respective segments.

Cadillac, which is finalizing plans for expanding in the European market, will enhance and expand its distribution network over the next three years as it prepares for numerous product introductions.

"Europe is a key region for GM that will benefit from a stronger Opel and Vauxhall and further emphasis on Cadillac," said GM Chairman and CEO Dan Akerson. "For Chevrolet, it will allow us to focus our investments where the opportunity for growth is greatest."

"This is a win for all four brands. It's especially positive for car buyers throughout Europe, who will be able to purchase vehicles from well-defined, vibrant GM brands," Akerson said.

Chevrolet will work closely with its dealer network in Western and Eastern Europe to define future steps while ensuring it can honor obligations to existing customers in the coming years.

"Our customers can rest assured that we will continue to provide warranty, parts and services for their Chevrolet vehicles, and for vehicles purchased between now and the end of 2015," said Thomas Sedran, president and managing director of Chevrolet Europe. "We want to thank our customers and dealers for their loyalty to the Chevrolet brand here in Europe."

The majority of the Chevrolet portfolio sold in Western and Eastern Europe is produced in South Korea. As a result, GM will increase its focus on driving profitability, managing costs and maximizing sales opportunities in its Korean operations as the company looks for new ways to improve business results in the fast-changing and highly competitive global business environment.

"We will continue to become more competitive in Korea," said GM Korea President and CEO Sergio Rocha. "In doing so, we will position ourselves for long-term competitiveness and sustainability in the best interests of our employees, customers and stakeholders, while remaining a significant contributor to GM's global business."

With the decision that Chevrolet will no longer have a mainstream presence in Western and Eastern Europe, GM expects to record net special charges of $700 million to $1 billion primarily in the fourth quarter of 2013 and continuing through the first half of 2014. The special charges include asset impairments, dealer restructuring, sales incentives and severance-related costs, and will pave the way for continued improvement in GM's European operations through the further strengthening of the Opel and Vauxhall brands. Approximately $300 million of the net special charges will be non-cash expenses. In addition, GM expects to incur restructuring costs related to these actions that will not be treated as special charges, but will impact GM International Operations earnings in 2014.

About General Motors Co.
General Motors Co. (NYSE:GM, TSX: GMM) and its partners produce vehicles in 30 countries, and the company has leadership positions in the world's largest and fastest-growing automotive markets. GM, its subsidiaries and joint venture entities sell vehicles under the Chevrolet, Cadillac, Baojun, Buick, GMC, Holden, Isuzu, Jiefang, Opel, Vauxhall and Wuling brands. More information on the company and its subsidiaries, including OnStar, a global leader in vehicle safety, security and information services, can be found at http://www.gm.com.
---
By Noah Joseph
---
See also: GM design boss Welburn says Lincoln isn't a Cadillac rival [w/poll], Cadillac ATS Coupe headed for Detroit reveal, 2015 Cadillac Escalade blings its way into LA.