GM to offer 2 years free maintance on most 2014 models
Thu, 06 Jun 2013 15:45:00 EST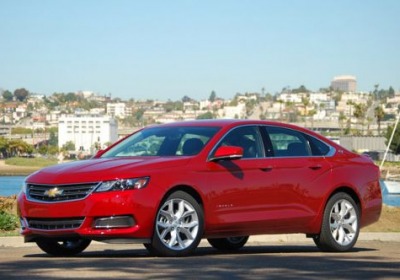 A day after Ford announced it was scaling back the complimentary maintenance program for its Lincoln brand, General Motors has gone in the completely opposite direction, offering most of its 2014 lineup with free maintenance. Since 2011, Cadillac models have all come with a four-year/50,000-mile complimentary maintenance program, but Chevrolet, Buick and GMC vehicles will now come standard with free maintenance for two years or 24,000 miles for the 2014 model year.

The program will give vehicle owners and lessees free oil changes, tire rotations and 27-point inspections following the recommended maintenance schedule laid out in each vehicle's owner's manual. We contacted GM to see which vehicles were eligible for the program, and a spokesperson got back to us with the following comment:
"All 2014 models are eligible, it's just that the included services vary by model, e.g., Spark EV would not need oil changes, Corvettes don't recommend tire rotations."
Even better, this plan applies to 2014 model year vehicles already purchased or leased, and it is fully transferable if the car is sold. Scroll down for GM's official press release.


2014 GM U.S. Models to Include New Maintenance Plan

-Eligible 2014 Chevrolet, Buick, GMC models covered by program
-Certain scheduled maintenance services provided for two years/24,000 miles

DETROIT – Customers who purchase or lease an eligible new 2014 Chevrolet, Buick or GMC car, truck or crossover in the U.S. will be covered by a new maintenance program that includes certain scheduled services for two years or 24,000 miles, whichever occurs first.

"This new plan will kick off our customers' ownership experience on the right foot and keep our strong sales momentum going," said Dan Akerson, General Motors Chairman and CEO, who announced the plan at GM's 2013 annual meeting of stockholders.

"We know that customers who service their vehicles at our dealerships are much more likely to purchase another GM product down the road," Akerson said. "It's all the more important to bring customers to our service facilities for routine maintenance to further enhance the quality and reliability of their GM vehicles."

For most 2014 vehicles, Chevrolet, Buick and GMC dealers will complete an oil and filter change, four-wheel tire rotation, and conduct a 27-point vehicle inspection based on what's called for in the vehicle owner's manual maintenance schedule and oil life monitoring system.

Some alternative-fuel vehicles do not include oil changes, and some performance vehicles do not include tire rotations when that service is not recommended. The program covers up to four service visits in the 24-month period, and is fully transferrable to subsequent owners. Customers who have already purchased or leased a 2014 model year vehicle will receive the scheduled maintenance program.

Cadillac vehicles beginning with the 2011 model year are already covered by the Cadillac Premium Care Maintenance Program, which covers scheduled maintenance services including oil changes, tire rotation, most air filter replacements and an inspection for four years or 50,000 miles, whichever comes first.

About GM
General Motors Co. (NYSE:GM, TSX: GMM) and its partners produce vehicles in 30 countries, and the company has leadership positions in the world's largest and fastest-growing automotive markets. GM, its subsidiaries and joint venture entities sell vehicles under the Chevrolet, Cadillac, Baojun, Buick, GMC, Holden, Isuzu, Jiefang, Opel, Vauxhall and Wuling brands. More information on the company and its subsidiaries, including OnStar, a global leader in vehicle safety, security and information services, can be found at http://www.gm.com.
---
By Jeffrey N. Ross
---
See also: OnStar RemoteLink mobile app coming standard on all new GM vehicles, OnStar RemoteLink mobile app coming standard on all new GM vehicles, 2013 Buick Encore nets strong IIHS, NHTSA safety scores.