Ford Mondeo classes up with premium Vignale trim
Wed, 11 Sep 2013 07:59:00 EST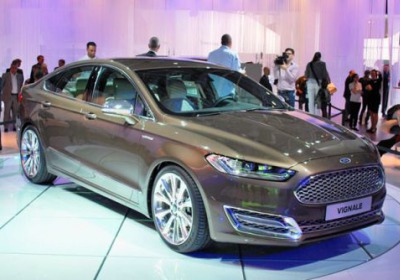 Back in the day, Vignale was a carrozzeria of the highest order, alongside the likes of Pininfarina, Bertone and Zagato. But like Giugiaro-ItalDesign and Ghia, it has since been subsumed into a larger auto group. Ford ended up with it under its umbrella when it took over De Tomaso, and has since used the moniker for a number of concept cars. Now the name is back in the form of a new upscale sub-brand for the European market.

The first new model to receive the Vignale treatment is the Mondeo, which Ford unveiled here at the Frankfurt Motor Show in both sedan and wagon forms. Positioned above the Titanium trim, the Vignale model gets such special touches as chrome trim and a quilted leather interior, Vignale badges replacing any mention of the Mondeo on which it's based. It also gains an ownership experience – including free car washes for life! – to befit the upscale positioning.

Under the bright spotlights above the show floor, the Nocciola metallic brown paint might not be the most photogenic, but will likely give the Vignale edition a more premium look when it hits European dealers and roads in 2015. Whether it'll be worth however much Ford asks for it, however, remains to be seen. Scroll down below for the official press release.

FORD INTRODUCES 'VIGNALE' – A NEW PRODUCT AND OWNERSHIP EXPERIENCE

- Ford of Europe announces plans to launch Vignale – a unique exclusive product and ownership experience – in early 2015
- Ford reveals new Ford Mondeo Vignale Concept – an initial vision of how unique interior and exterior design touches, premium craftsmanship, exclusive specification and technologies might be combined
- The first Ford Vignale model will be based on the all-new Mondeo, with others to follow

COLOGNE, Germany, 4 September, 2013 – Ford of Europe plans to launch a new exclusive product and ownership experience in Europe called Vignale.

Ford's initial vision for Vignale (pronounced: Vin-ya-lay), the Ford Mondeo Vignale Concept, features unique design elements, high quality craftsmanship, exclusive specification and advanced technologies.

"Vignale represents the highest expression of the Ford brand in Europe from both a product and from an ownership experience perspective," said Stephen Odell, Ford president of Europe, Middle East and Africa. "The Ford Mondeo Vignale Concept showcases the features that customers tell us they want in terms of styling and quality, advanced technology and exclusivity."

Ford presented the new Ford Mondeo Vignale Concept in four-door saloon and estate body styles, both featuring 20in Vignale alloy wheels with in-depth detailing and high-quality finish, "Vignale" badging, chrome door handles and mirror caps, mesh grille, unique front bumper and fog lamp design, and exclusive "Nocciola" dark brown coachwork.

It also features quilted trim, chrome lower mouldings, leather armrests, and exclusive seating with "Vignale" detailing and high-quality, soft-touch leather that extends to the steering wheel, instrument panel, centre console, door top-rolls and centre arm-rest. Embossed scuff plates and luxury floor-mats enhance an ambience that combines traditional coach-building with contemporary design and material trends.

Ford SYNC with MyFord Touch in-car connectivity system will enable integration of smartphones and deliver wi-fi capability, while new-generation adaptive LED headlamps enhance visibility and vision.

Ford continues to develop a unique interpretation of modern luxury and design, and this year it was the first auto manufacturer to participate in the world's leading furniture design show – Salone Internazionale del Mobile in Milan. The company's design DNA and the influence of furniture and fashion trends was reflected in Ford Design's bespoke chair, lamp and watch displayed at the event.

"Influences that range from architecture to fashion combine to give the Mondeo Vignale Concept a sense of high quality and a feeling of timelessness – alongside the very latest advanced technologies," said Stefan Lamm, exterior design director, Ford of Europe.

With the full Vignale experience more than 18 months from commercial launch, Ford will roll out further details of both product and consumer benefits in the coming months.

Ford Vignale, which starts with the Mondeo Vignale saloon and wagon in early 2015 and will be extended to further models, responds to an increasing trend towards time-saving services, and reflects demand for high-end Ford products. Higher specification models currently account for more than half of Ford's large car sales in Europe.

Vignale is also inspired by exclusive services from beyond the world of automotive. These include VIP air-travel services that offer chauffeuring, dedicated check-in and security and clubhouse access; and exclusive banking and credit card services with dedicated relationship managers, reward points, concierge services and partner brands such as hotel chains, restaurants and entertainment venues.

"Ford Vignale premium services will meet the needs of the customer for whom time is the ultimate luxury," said Gaetano Thorel, Marketing vice president, Ford of Europe.

About Ford Motor Company

Ford Motor Company, a global automotive industry leader based in Dearborn, Mich., manufactures or distributes automobiles across six continents. With about 177,000 employees and 65 plants worldwide, the company's automotive brands include Ford and Lincoln. The company provides financial services through Ford Motor Credit Company. For more information about Ford and its products worldwide please visit www.corporate.ford.com.

Ford of Europe is responsible for producing, selling and servicing Ford brand vehicles in 50 individual markets and employs approximately 47,000 employees at its wholly owned facilities and approximately 67,000 people when joint ventures and unconsolidated businesses are included. In addition to Ford Motor Credit Company, Ford Europe operations include Ford Customer Service Division and 22 manufacturing facilities (13 wholly owned or consolidated joint venture facilities and nine unconsolidated joint venture facilities). The first Ford cars were shipped to Europe in 1903 – the same year Ford Motor Company was founded. European production started in 1911.
---
By Noah Joseph
---
See also: Ford S-Max Concept proves minivans aren't always minivans [w/video], Ford C-Max sales hold steady despite fuel economy fracas, Ford doubling 1.0L EcoBoost engine production.