Fernando Alonso gives German TV interview driving Ferrari F12 at the Nordschleife
Tue, 16 Jul 2013 10:28:00 EST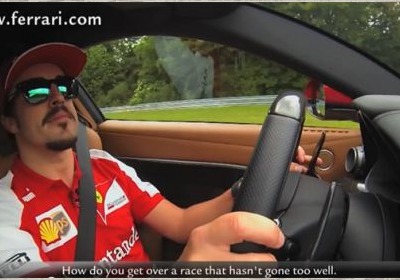 Fernando Alonso gave a wide-ranging interview to German television station RTL, the Spanish driver and German interviewer conducting the session in Italian, driving a special Italian car on very special German track. Among many answers – from the industriousness of his native Ovideo, Spain to where he relaxes – Alonso gives Ferrari an eight out of ten for the season, admitting they don't have the fastest car but they have a complete car, and refuses to give himself a number, only saying that he is more complete as well than when he first entered.

Beyond the normal-guy persona and wealth of topics, the 10-minute interview is neat for being able to watch Alonso hurl the Ferrari F12 Berlinetta over and around kerbs while he's answering questions. You can check it all out in the video below.



---
By Jonathon Ramsey
---
See also: Race Recap: 2013 German Grand Prix is old beginnings, new endings [spoilers], Ferrari California replica from Ferris Bueller is so choice, Overnight action from the 24 Hours of Le Mans.