Defiance Dodge Charger, saving Earth from aliens isn't clean work [w/video]
Fri, 08 Feb 2013 08:45:00 EST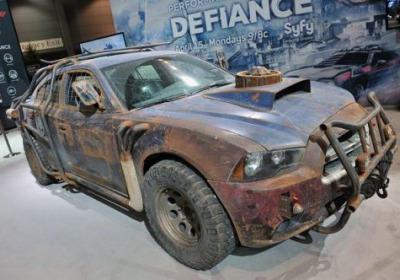 You'll be forgiven for not having heard about the TV show Defiance – it actually hasn't aired its first episode yet. The new science fiction show about an alien war against Earth in the near future seems like a perfect fit for the SyFy channel, and, apparently one that Dodge saw as a slick marketing opportunity for its Charger sedan.

Here in Chicago, Dodge has given a large corner of its show stand to the Defiance Charger, a car that won't be skipped by any Mad Max fans in attendance at this year's show. The Charger boasts one hell of a gnarly patina under a confusingly welded cage of tube steel, as well as window bars, a grille guard in front, and big, knobby truck tires. There aren't any obvious guns or turrets on the outside of the vehicle, so we can only hope that the characters driving it go well-armed.

Look for the Charger to make its star turn in Defiance when the series premieres on SyFy on April 15 at 9:00 PM EST. Also, there's said to be a Defiance video game in the works, too, so you may get a chance to steer the burly Dodge for yourself. Find a trailer for the show, below, as well.


---
By Seyth Miersma
---
See also: 2013 Dodge Challenger R/T hits the Redline, 2013 Dodge Challenger R/T Redline revs into Chicago, Mopar '13 Dart will roll into Chicago next week.