BMW mulled ten, eight, and six-cylinder engines for i8 before going hybrid
Wed, 09 Oct 2013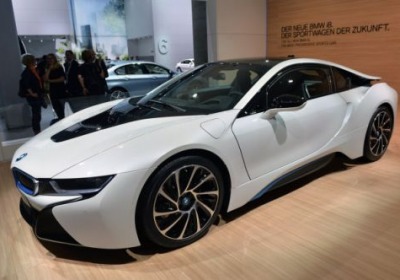 There's little doubt that the 2015 BMW i8 is one of the most radical and groundbreaking performance cars this industry has seen in a long time. From its unique carbon-intensive construction to its 1.5-liter, three-cylinder and electric motor plug-in powertrain to its concept-car appearance, the flagbearer for BMW's new i venture challenges the very notion of what it takes to be a supercar.

Yet apparently the i8 almost didn't do that at all. Yes, it probably still would've had innovative assembly techniques, serious performance and come-hither bodywork, but according to a new report in the Telegraaf, it was very nearly a much more conventional beast, drawing its power from a V10 engine. According to the report, that line of development never got much beyond the drawing board, but BMW engineers then shifted their focus to both V8 and six-cylinder motivation, going so far as to build prototype cars. The higher cylinder-count engines were eventually dropped altogether after BMW decided to turn the i8 into a hybrid, with the six-cylinder reportedly nixed due to heat management and weight issues. In the end, of course, BMW went with the PHEV powertrain that offers a total system output of 362 horsepower and 420 pound-feet of torque – plenty of thrust for this lightweight, all-wheel drive coupe while still enabling an incredible 94 miles to the gallon on the EU cycle. Regardless of how it turned out, it's still fascinating to think that BMW didn't have a much firmer conceptual idea of what it was after when it started the i8's development.

Here at Autoblog, we're genuinely thrilled about this new generation of greener hybrid super- and hypercars, a movement spearheaded by the i8, Porsche 918 Spyder, Ferrari LaFerrari and McLaren P1. But even so, our inner-gearheads can't help but wonder what might have been had BMW pursued a more conventional i8, either in place of, or in addition to, the car they did build. What do you think? Have your say in Comments.
---
By Chris Paukert
---
See also: BMW R1200 GS Adventure is made for epic roadtrips, BMW rethinks all-wheel-drive M cars, BMW pondering hardcore M4 to celebrate 100 years?.