BMW M235i Racing takes to the track
Mon, 09 Dec 2013 19:29:00 EST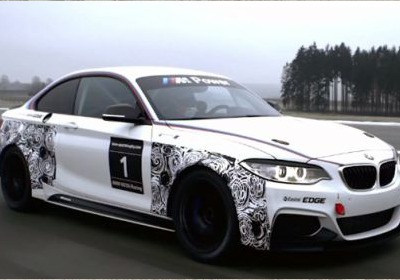 Last month, BMW showed off a motorsports version of its new 2 Series Coupe called the M235i Racing. While that single image was obviously a rendering or design model, BMW Motorsports has now released a video showing the real deal being tested.

From what we can tell from beneath the camouflage, the wide-body fenders ­– to accommodate a 3.5-inch track stretch – are slightly different than the image BMW previously released. Still, the body is noticeably different from the stock coupe. The video, which is posted below, shows glimpses of the race-prepped interior, including a full FIA roll cage, but more importantly we get to hear the 333-horsepower engine and its throaty exhaust in action.



---
By Jeffrey N. Ross
---
See also: BMW planning X4 M Performance diesel? [w/poll], BMW and Mini shuffle NA management, McDowell to retire, Toyota launches BMW-powered Verso in Europe.