BMW 4 Series spied with its future competition
Wed, 20 Feb 2013 18:30:00 EST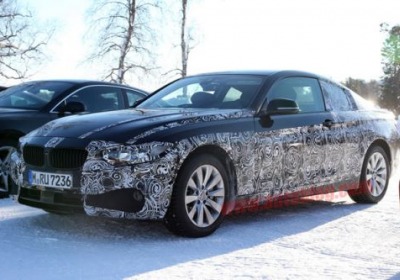 BMW showed off its new 4 Series coupe in concept form at the 2013 Detroit Auto Show earlier this year, but it won't be long before we see the production model, evidenced by this modestly camouflaged prototype spotted testing. In case you forgot, the 4 Series serves as the replacement for the two-door versions of the BMW 3 Series, just as the upcoming 2 Series will effectively be the new version of the 1 Series coupe and convertible sold in our market.

This isn't our first glimpse of the 4 Series out testing, and we've even spied its droptop, Gran Coupe and too-hot M4 kin. We don't expect the final design to stray too much from the concept car seen in Detroit, albeit without the normal conceptual goodies like oversized wheels and with the overstyled front fascia toned down a bit. Our spy photographers even caught the 4 Series coupe hanging out with an Audi A5, giving us a good glimpse at how the two cars will stack up in terms of size and design.

It's still unknown exactly what engines will power the car when it comes to production, but since this thing is a derivative of the 3 Series, we expect the usual range of turbocharged four- and six-cylinder engines to be available, likely in 428i ad 435i guise (though, to be fair, the larger 640i coupe uses a 3.0-liter turbo engine, so there's even the potential for 440i nomenclature to work its way into the mix). We'll have to wait until the car officially bows later this year to know for sure.
---
By Steven J. Ewing
---
See also: BMW starts Apple-like "Genius" program to explain tech, Mercedes says it's tops in luxury sales for 2012, not BMW, BMW recalling nearly 570,000 1 Series, 3 Series and Z4 models over electrical issue.