Alpina D3 may be coming to Frankfurt with 350 hp, AWD
Wed, 14 Aug 2013 13:30:00 EST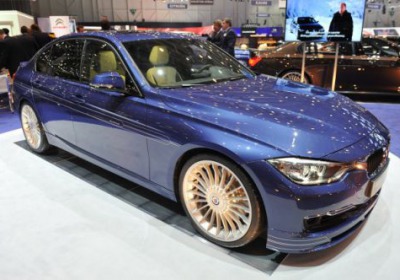 Rumors are swirling that Alpina, the tuning house that specializes in all things BMW, will followup its Geneva debut of the B3 Bi-Turbo with an oil-burning variant slated for debut at September's Frankfurt Motor Show. The news comes from Auto Zeitung, which reports that the second-generation D3 will be based off the Europe-only 335d.

This is a departure from the last D3, which had the four-cylinder turbo-diesel from the BMW 123d in a 3 Series body. The new model is expected to use a 3.0-liter, twin-turbocharged inline-six, which will generate 350 horsepower and 516 pound-feet of torque. That should scoot it to 62 miles per hour in under five seconds (likely while towing a tree stump). Both rear- and all-wheel drive should be available on the D3, and we imagine the thrill of this much power channeled through just the two rear wheels to be akin to skydiving sans parachute.

For our European friends that want an Alpina D3, but don't need more torque than any American full-size pickup, there may be plans to offer a four-cylinder variant that still delivers Alpina performance without a compromise in economy. We'll have more on the Alpina D3 when it debuts at the 2013 Frankfurt Motor Show.
---
By Brandon Turkus
---
See also: BMW predicts US will be biggest i8 market, Two new RWD Toyota sports cars to join FR-S?, BMW, Ferrari, VW cars use tungsten mined by terrorists.