Acura rejoins with Seinfeld, sponsors Comedians In Cars Getting Coffee [w/videos]
Wed, 05 Jun 2013 16:58:00 EST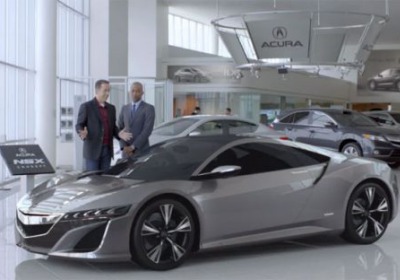 We enjoyed the opening season of Seinfeld's offbeat Comedians In Cars Getting Coffee web series, a video serial where Jerry Seinfeld picked up his friends in some of his classic cars and... chatted. It was a simple premise that offered some genuinely enjoyable moments, even if the 'cars' connection was often a bit incidental. In any case, Acura must have felt the same way, as it has just inked a deal to be the sole sponsor for the series' next season.

Acura, you may recall, already enjoys a relationship with the comedian – Seinfeld starred in the company's 2012 Super Bowl ad alongside the NSX supercar concept. So perhaps it's no surprise that it has signed on to sponsor 24 episodes of the series, due to roll out this year and next. Naturally, with any title sponsorship these days, you can expect to see some integration of the sponsor – in this case, Acura says such measures will involve its new 2014 MDX crossover, integrating "short, contextually relevant ads at the beginning and end of the episode."

Will you watch? For a refresher on Comedians In Cars Getting Coffee, check out a couple of our favorite first season episodes with Michael Richards and Alec Baldwin by scrolling below.


From Crackle: It's Bubbly Time, Jerry


From Crackle: Just a Lazy Shiftless Bastard



Acura Signs on as Exclusive Sponsor of Comedians in Cars Getting Coffee

06/05/2013 - TORRANCE, Calif.
Acura, one of the world's most technologically advanced luxury automotive brands, has signed on as the sole sponsor of "Comedians in Cars Getting Coffee," the popular award-winning web series created by and starring Jerry Seinfeld, returning this summer to Crackle and www.ComediansInCarsGettingCoffee.com. Acura will sponsor 24 new episodes to be released in 2013 and 2014.

Seinfeld, who previously worked with Acura and starred in the luxury automaker's much-heralded 2012 Super Bowl commercial, will incorporate several unique product integrations, including the much-anticipated, all-new Acura MDX.

"We at 'Comedians in Cars Getting Coffee' are so glad a company we already admire has stepped forward to support us," said Jerry Seinfeld. "Not everyone understood what we were doing. But like Moe Green who invented Las Vegas, Acura is a company of vision and guts. We could not be more thrilled to have them as our sponsor. Because of them, we advance!"

Sponsorship of the series was a natural fit for Acura, as the brand is inspired by those who are not afraid to defy convention. "Comedians in Cars Getting Coffee" achieves just that, boldly breaking away from traditional expectations, and Seinfeld is pushing the standards of entertainment. While the mediums are different, the end goals are the same – to be inspired by the taste-makers who are propelling the future forward.

"We love Jerry's unconventional, fan-first approach of creating great content and trusting that the right people will find it," said Mike Accavitti, Acura Senior Vice President of Auto Operations. "It is totally consistent with Acura's organic approach of putting the customer first and building the vehicle around them."

In terms of execution, Acura and Seinfeld are aligned on a unique approach, building content around the consumer – not the other way around. As the only sponsor the upcoming 24 episodes, Acura will integrate short, contextually relevant ads at the beginning and end of each episode.

"Crackle is a big priority at SPE and the studio has had a long, successful relationship with Jerry, so 'Comedians in Cars' is very important to us," said Eric Berger, Executive Vice President of Digital Networks for Sony Pictures Television and General Manager of Crackle. "It's a great fit to have Acura on board and through our exclusive partnership, we will be working closely to engage millions of fans around the fun, simple pleasures of driving."

Since its debut in July 2012, "Comedians in Cars Getting Coffee" has delivered more than 10 million streams, garnered rave reviews, and earned Jerry Seinfeld a special Webby Award for Outstanding Comedic Performance. The breakout hit returns this summer and will feature Seinfeld's conversations with comedy greats like David Letterman, Sarah Silverman, Chris Rock and Don Rickles. Jerry Seinfeld is the executive producer of "Comedians in Cars Getting Coffee," which is produced by Sony Pictures Television's Embassy Row. Creative Artists Agency (CAA) brokered the deal with Acura on behalf of its client Jerry Seinfeld.

About Acura
Acura offers a full line of technologically advanced performance luxury vehicles through a network of 272 dealers within the United States. The Acura lineup features six distinctive models including the all-new RLX luxury flagship sedan, the TL performance luxury sedan, the TSX Sport Wagon and sedan, the ILX compact luxury sedan, the RDX luxury crossover SUV, and the soon to be released all-new MDX luxury sport utility vehicle.

About Crackle
Crackle, Inc. is a multi-platform next-generation video entertainment network that distributes digital content including original series and full-length traditional programming from Sony Pictures' vast library of television series and feature films in addition to the libraries of other studios. Crackle is one of the fastest growing entertainment destinations on the Internet, mobile and over-the-top devices, offering audiences high-quality programming in a variety of genres, including comedy, action, sci-fi, horror and music. Crackle reaches an impressive audience through its diverse online, mobile, connected TV and game console distribution network. Crackle is available in the US, Canada, UK, AU, Latin America and Brazil. Visit Crackle's site at www.crackle.com or find Crackle on Facebook at www.facebook.com/crackle.
---
By Chris Paukert
---
See also: 2014 Acura MDX [w/video], 2014 Acura MDX priced from $42,290*, Acura NSX to be built in Ohio in 2015.