2014 Porsche Panamera S E-Hybrid is one mean green machine
Sat, 20 Apr 2013 11:15:00 EST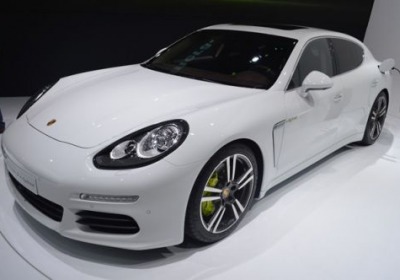 The entire Porsche Panamera lineup gets a refresh for the 2014 model year, and new additions to the range include two long-wheelbase models and this E-Hybrid fuel-sipper that makes its debut here at the Shanghai Motor Show. And, well, we say "fuel-sipper lightly."

Porsche has packed its hybrid Panamera with 416 horsepower and 435 pound-feet of torque, and that certainly makes for one quick sedan-hatchback-thing. Hitting 60 miles per hour will reportedly take just 5.2 seconds, on its way to a top speed of 167 mph. And while Porsche hasn't revealed specific powertrain details, the company says that the S E-Hybrid "improves upon the concept offered by the previous Panamera S Hybrid with a more powerful electric motor," which leads us to believe that the supercharged 3.0-liter V6 engine at the heart of it all still remains intact.

Fuel economy numbers (or estimates) have not been released as of this writing, but we expect to have that information closer to the car's on-sale date later this year. As for the new battery system, Porsche says that when plugged into a 240-volt charging station, it can be fully charged in just two and a half hours. When topped off, the Panamera S E-Hybrid should have an electric driving range of around 20 miles at speeds up to 84 mph, though, obviously, not at the same time.

Have a look at the press release below for more information.

Porsche Debuts Plug-in Panamera at Auto Shanghai


Shanghai/Atlanta. Today Porsche is celebrating the world premiere of the 2014 Panamera at Auto Shanghai, the Asian market's leading auto show. The centerpiece of the show for Porsche is the appearance of the new Panamera S E-Hybrid, the first plug-in hybrid offering from the German automaker. Also making their debut are two luxurious Executive versions for the Panamera S and Panamera 4S, which feature an extended wheelbase and a completely new 3.0-liter twin-turbo V6 engine. With this launch, the Panamera line-up now increases to nine individual models that offer an extended range between sportiness and comfort.

"The Porsche Panamera and China – that is a very special success story," said Matthias Müller, president and CEO of Porsche AG. "Exactly four years ago, we introduced the first Panamera to a world audience here in Shanghai – and very intentionally here. Because it was clear to us that our Gran Turismo would be precisely the right model for this future market. And we were not mistaken. In 2012, one out of three Panamera cars were delivered to China."

Since then, China has gained in importance and become the second largest Porsche market in the world, behind the United States.

The new Panamera S E-Hybrid improves upon the concept offered by the previous Panamera S Hybrid with a more powerful electric motor, a higher-performance battery that supplies more energy and is able be recharged from home or public vehicle charging stations. The electric drive produces 95 hp, more than double the power of the previous model's electric motor (47 hp). Electricity is stored in a newly developed lithium-ion battery, which at 9.4 kWh has increased capacity over the previous battery (1.7 kWh). Via the integrated on-board charging componentry and the standard Porsche Universal Charger (AC), the battery can reach full charge within approximately two and a half hours when connected to a 240V power source.

The Panamera S E-hybrid is capable of accelerating from a standstill to 60 mph in 5.2 seconds on its way to a top track speed of 167 mph.

In a second world premiere, Porsche President and CEO Matthias Müller presented the new Panamera 4S Executive and Panamera Turbo Executive models, which feature a wheelbase extended by 5.9 inches, enabling even more rear seating comfort and come with an extensive range of standard features. For example, all Executive models are equipped with Adaptive air-suspension featuring Porsche Active Suspension Management (PASM), which combines superior performance and enhanced ride comfort.

The new Panamera models will be available in the U.S. starting late in 2013. Panamera Turbo S and Panamera Turbo S Executive variants will be available in 2014. Pricing details are as follows:

Panamera $78,100

Panamera 4 $82,800

Panamera S $93,200

Panamera 4S $98,300

Panamera S E-Hybrid $99,000

Panamera GTS $113,400

Panamera 4S Executive $125,600

Panamera Turbo $141,300

Panamera Turbo Executive $161,100


*Base pricing does not include options, taxes, dealer charges and a destination fee of $975.
---
By Steven J. Ewing
---
See also: eGarage video features Helmuth Bott's personal Porsche 959 prototype, Porsche reportedly working on new turbocharged flat-four boxer engine?, Preparing for Le Mans 2014 Porsche remembers 1971 and the 917 [w/video].