Preparing for Le Mans 2014 Porsche remembers 1971 and the 917 [w/video]
Sun, 07 Apr 2013 19:05:00 EST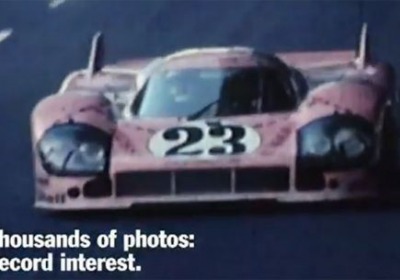 Porsche has given us another look back at its successes at the 24 Hours of Le Mans. This time it's 1971, the year that its 917 set records that haven't all been eclipsed. It's 45-kilogram magnesium tube frame was the lightest, Jackie Oliver set the fastest in-race lap with a time that still stands, and winning drivers Helmut Marko – the same Helmut Marko currently with Infiniti Red Bull Racing – and Gilles Lethem did so many laps that their distance wasn't exceeded until the Audi R15 TDI did it in 2010.

1971 was also the year of the "Pink Pig." With bodywork created by a French aerodynamics firm, the wider, rounder 917 earned the porcine moniker so Porsche painted it pink and labeled it with the cuts you'd get from a pig. Sponsor Martini was so miffed they demanded all Martini branding be removed. No one can remove the thousands of photographs taken of the car ever since. Enjoy that and more in the video below.



---
By Jonathon Ramsey
---
See also: 2015 Porsche Cayenne spotted with facelift, 2014 Porsche Panamera arrives with new E-Hybrid, long-wheelbase models, 2013 Porsche 911 RSR makes official debut.