2014 Mercedes-Benz S-Class revealed again in 1:18 scale
Fri, 10 May 2013 15:46:00 EST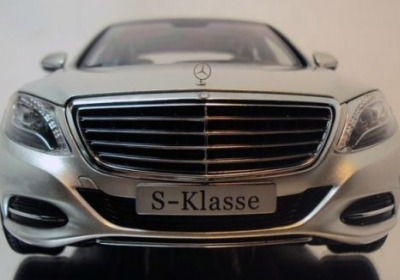 There is plenty to look forward to when it comes to the 2014 Mercedes-Benz S-Class, but it could end up being a fairly anticlimactic reveal thanks to fully exposed spy shots, a leaked press photo and now images of a diecast version of the luxury sedan. Autoweek.nl has images showing a highly detailed 1:18 scale model of the redesigned S-Class that matches up with everything we've seen so far.

This isn't the first time a model car spoiled a new vehicle's reveal, as the 2014 Mercedes-Benz CLA-Class and 2013 SRT Viper were both unceremoniously revealed in toy form first. World Car Fans is reporting that the car 2014 S-Class will be officially unveiled on May 15, but at this point, all that's left to wonder about is the official on-sale date and what will be under the hood.
---
By Jeffrey N. Ross
---
See also: Mercedes-Benz releases US-spec 2014 Sprinter details, 2013 Mercedes-Benz GLK250 Bluetec gets 33 mpg, priced from $38,950*, Mercedes Sprinter updated to take on Ford Transit, Ram ProMaster.