2014 Mazda6 i Sport
Fri, 01 Feb 2013 11:57:00 EST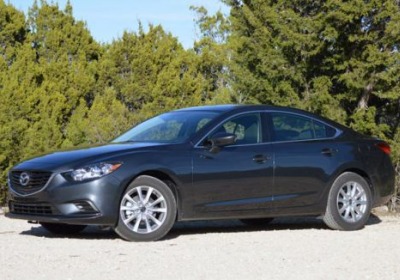 In an automotive landscape dominated by platform sharing, technology exchange and any number of other cross-fertilization/cost-saving/amortization exercises, it's actually pretty rare that we get to drive a new car that is as "all-new" as this, the 2014 Mazda6. With brand-spanking new Skyactiv architecture throughout – engine, transmission, body and chassis all included – this 6 represents a new era of flexible production and cutting edge running gear for the happily lithe car company.

Our own Jonathon Ramsey did a cracking job of running the Mazda6 through its First Drive paces a few months ago, and sufficiently impressed upon us just how good looking a car this is for the midsize sedan segment. Suffice it to say, now, then, that this is easily the most interesting (and quite possibly the most beautiful) midsize sedan in the segment today. However, as Mr. Ramsey reviewed a fully contented example of the 6 – one equipped with the six-speed automatic transmission – we took advantage of Mazda's North American launch event of the car to suss out the base Mazda6 i Sport, complete with its six-speed Skyactiv manual gearbox. This may not shock you, but the stripper's pretty good, too.

Driving Notes

We'll get right down to the meat of it: The manual transmission is far better than the average do-it-yourself gearbox in this segment. Throws of the gearlever are light, short, and easy to put home with confidence. The clutch pedal, similarly, is very low-effort, but with a broad catch point that's simple to operate in every driving situation we encountered. This isn't a hewn-from-billet shifting experience, naturally, but it is a manual transmission that can be used with satisfaction in spirited driving, or mindlessly on the shopping run. The transmission is just perfectly suited to the power delivery of the smooth 2.5-liter motor, too.
The Sport trim car we tested had zero options – quite a rarity in the media fleet. Still, we found the cabin to be pretty accommodating and comfortable. The most noticeable interior bits on this base-level are the all-cloth seats and the old school head unit where the touchscreen display usually lives. The seats were fine – soft to the touch and seemingly resilient, with just a bit of gloss and texture to make them feel upscale without the cowhide. The head unit, meanwhile, while perfectly functional (and sure to be embraced by the Luddite set in our comments section), was both drab and old-fashioned looking. Naturally, the instrument panel was designed to accommodate a touchscreen – this is the 21st Century, after all – so its lack of one hampers the design. For one thing, the lack of color and brightness afforded by the display makes the dash look sort of dark and dreary by comparison.
So, just how inexpensive is the base model Mazda6 i Sport? The literal answer is $21,675 after the $795 destination fee has been added on. That's pretty good, we thought. The relative answer is, of course, slightly more complicated. In a tooth-and-nail segment like this one, you'd expect pricing among the heavyweight players to be very close, and it is. Still, the new 6 is almost the class-leader. Comparing optionless, base-model MSRPs, plus destination charges, we find this: Toyota Camry is $23,030, Nissan Altima is $22,550, Honda Accord is $22,470 and Ford Fusion is $22,245. Volkswagen's most basic Passat is just $21,640 though – about a night at the movies with your wife (not the kids) cheaper than the Mazda.
Mazda is in zero danger of loosing its ballyhooed Zoom-Zoom appeal with this 6 – the handling experience is impressive. While we were perhaps a bit less bullish about the car's nimbleness on our test drive through some very hilly, winding Texas Hill Country roads than when cruising through the French countryside (again, see our First Drive), we still found the thing to be pretty tossable. Reactions to steering inputs, especially, were impressively fast for a car this big and long. The steering experience itself was a bit weightless, with not enough of a transition from on-lock to off-lock feeling of heft, but still very accurate and easy to modulate in a quick corner. Suspension response was admirable, too, on fast switchbacks. For all of that, the cruising ride didn't suffer, though road and tire noise on the freeway was higher than we'd like.
Mazda will doubtlessly sell a lot of examples of this new Mazda6 based on its stunning sheetmetal and high levels of content in the middle/upper trims. Good to know that the base car is still pretty sweet then; and still a pleasantly differentiated product in a segment filled with one-upmanship.
Vital Stats
Engine:

2.5L I4

Power:

184 HP / 185 LB-FT

Transmission:

6-Speed Manual

Drivetrain:

Front-Wheel Drive

Curb Weight:

3,183 LBS

Seating:

2+3

Cargo:

14.8 CU-FT

MPG:

25 City / 37 HWY

MSRP:

$21,675 (as tested)
---
By Seyth Miersma
---
See also: Mazda6 GX Grand-Am racer goes where no diesel sedan has gone before, Mazda and Fiat finalize deal for Alfa roadster, next-gen MX-5 Miata, Mazda3, CX-5 earn IIHS Top Safety Picks.