2014 Jaguar XJR
Mon, 23 Sep 2013 11:57:00 EST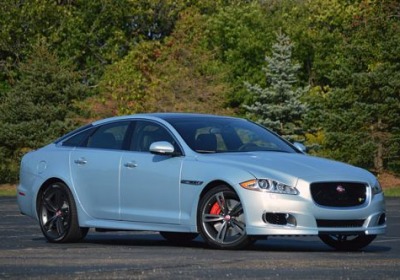 Jaguar In Its Purest Form



Jaguar has spent a lot of time, money and engineering effort refocusing itself for the modern world. In 2006, the current XK replaced the former XK8 and introduced a new aluminum-intensive chassis architecture to Jaguar's portfolio, and two years later, the XF whipped up a similar overhaul to its classical styling department.

The next major revision came in 2009, with the introduction of the achingly attractive and completely new XJ sedan, and this step struck us as the biggest improvement yet; not only was Jaguar's flagship built atop a cutting-edge platform, it boasted a newfound sense of style that pointed toward the future while still echoing the brand's storied past. This trend has continued most recently with the two-door F-Type that we've already grown quite fond of.

While we have been suitably impressed with the direction Jaguar has been taking over these last few years, there's been one large, gaping hole big enough for a Leaper to jump through: a true flagship performance sedan. That omission gets a massive plug for 2014 with the relaunch of the XJR nameplate. We spent a day in the reborn XJR in and around the picturesque locales of Seattle, WA, with the goal of finding out if Jaguar's newfound mojo would extend to the most powerful version of its biggest sedan.




Bystanders will know by the burble of its exhaust that something wicked lives underhood.
The first thing you notice upon walking up to the 2014 Jaguar XKR is that it's beautiful. Unlike the equally new XFR-S that we also sampled that day, the XKR is mostly devoid of boy-racer add-ons and look-at-me color palettes. All XJ sedans benefit from the slinky duds that bowed in '09, and the XJR, like only the most provocative little black dresses can, offers just subtle hints at what lies beneath.
There's a front chin splitter, an understated rear spoiler, tasteful side sill extensions and a pair of functional heat extractors in the hood. Besides the red and green R badging, that's all that identifies the XJR as something more than other XJ offerings. Until you start it up, that is, at which point bystanders will know by the burble of the exhaust that something wicked lives underhood.

Open the door and step inside, and you'll be greeted by a gorgeous interior that meshes with the car's outward appearance very well. The lovely engine note you heard so loud and clear from outside is much milder inside, but it's still present with a low, baritone note that lacks the high-pitched popping of the similarly powerful XFR-S. This, we're told, is completely by design. Both the XFR-S and XJR are fitted with identical engines, with 550 horsepower and 502 pound-feet of torque apiece. They differ only in exhaust systems; each car was tuned in a sound studio to appeal to appropriate audiences, and while the howl of the XFR-S is sure to turn the heads of onlookers, we'd be quite happy with the contented purr of the XJR in the real world.




We'd be happy to shuttle backseat passengers around, just as long as we get the driver's seat to ourselves.
Exhaust note aside, the interior of the 2014 XJR is a splendid place in which to watch the miles whiz past. A new bespoke set of semi-aniline leather surfaces optionally grace the cabin, as do trim veneers in piano black or carbon fiber. Contrasting stitching adds an aggressive touch, as do optional Ivory, London Tan or Red Zone inserts on the front and rear seats. The XJR can be ordered in either standard- or long-wheelbase permutations, and the car we drove was the latter. In its extended guise, there's plenty rear seat room, which is good, because tall passengers will have to hunch due to a distinct lack of headroom. The rear-seat tray tables are deleted in R guise, which is probably fine since the car's aggressive tuning means nothing would stay on a flat table very long anyway.

We'd be happy to shuttle backseat passengers around, just as long as we get the driver's seat to ourselves. Here, the leather is soft, the 18-way power adjustable seats allow us to find a comfortable perch and the digital gauge cluster ahead is in clear view. For whatever reason, Jaguar has chosen to mimic regular dials with its electronic unit, which we suppose is fine, but more than a bit unimaginative. At least the readouts are easy to see, and we like that the two main dials are outlined in red when the car is switched to Dynamic Mode. As with all other Jaguar models, the centrally mounted infotainment screen is large, bright and well integrated. But that's just about all it has going for it. Inputting data into the system isn't very pleasant and the system's overall speed is sluggish. To surmise: Bring your smartphone along for the ride.




The big XJR is actually lighter than the smaller XFR-S due to the more advanced aluminum underpinnings.
The XJR boasts suspension bits that are 30-percent stiffer than other XJ models, but that doesn't mean the ride is too firm. Far from it, we think, as the XJR is a calm, cool and composed cat on normal roadways. Even when presented with bigger bumps and winter-spec potholes, the 20-inch Farallon alloy wheels and unique Pirelli tires (265/35 up front and 295/30 at the rear) stay far from jolting as they follow the imperfections of the road. This is at least in part due to the high-tech electronic shocks that continually adjust damping to keep roll, pitch and squat in check.

With 550 galloping Clydesdales on tap, power is always in abundance. The run to 60 takes a claimed 4.4 seconds and the top speed is limited to 174 miles per hour. Perhaps most impressive is the big cat's passing power – Jaguar quotes a 50-75 time of a scant 2.46 seconds, and we believe it. If sporty dynamics are your game, twist Jag's rotary shift knob into S mode, which holds gears longer and keeps the ZF-sourced eight-speed transmission from shifting into overdrive when driving aggressively; hit the button for Dynamic Mode and everything tightens up – shifts feel quicker and firmer, the suspension takes a rougher edge and the electronic rear differential and stability control allow for a bit of wheel slip. It's all rather fun, and nothing goes so far as to make the XJR feel anything but composed. It's worth noting that the big XJR is actually lighter than the smaller XFR-S due to the more advanced aluminum underpinnings, which makes the sedan feel light on its feet.




It's pretty, it's fast, it's comfortable and it's fun to drive.
Steering feel is quite good, with the hydraulic rack benefiting from the same valving used on the XFR-S and F-Type. We found that the long wheelbase aided stability when driving fast instead of making it ponderous. Braking is similarly solid, with good initial feel and no noticeable fade. Credit goes to the 380mm x 36mm internally ventilated rotors up front, clamped by twin 42mm pistons, and single 45mm piston mounted against 376mm x 26mm rotors out back.

So, it's pretty, it's fast, it's comfortable and it's fun to drive. That means it's also rather expensive, as you'd expect from vehicles playing in this segment of the market. Base price for the standard-wheelbase XJR is $116,000. Our long-wheelbase Ultimate Black Metallic tester begins at $119,000 and comes with everything we'd want or need. Pricey options like the $2,000 carbon fiber engine cover and $1,700 illumination pack (lighted interior vents and treadplates) seem superfluous to us, but perhaps the $2,300 adaptive cruise control is worth it for some buyers. And while we think the carbon fiber interior trim is cool, we're not sure it's worth $1,575.



As far as competitors go, a top-shelf BMW 7 Series may be more dynamically focused; a Mercedes S63 AMG may have more spine-bludgeoning torque; an Audi S8 may be more technologically advanced, but, in a Goldilocks sort of conclusion, none of the German offerings exude class the way Jag's latest XJR does, and none of them are near as head-turningly sinuous. More than any other car it's produced in the last several years, this new Jaguar XJR is a perfect blend of beauty, luxury and performance, in that order. And that's exactly what a flagship model from Jaguar should be. Not surprisingly, then, the 2014 XJR is the most proper example of the modern Jaguar we've yet had the privilege to drive.


Vital Stats
Engine:

SC 5.0L V8

Power:

550 HP / 502 LB-FT

Transmission:

8-Speed Auto

0-60 Time:

4.4 Seconds

Top Speed:

186 MPH

Drivetrain:

Rear-Wheel Drive

Curb Weight:

4,145 LBS

Seating:

2+3

Cargo:

15.2 CU-FT

MPG:

15 City / 23 HWY

Base Price:

$116,000

As-Tested Price:

$124,875
---
By Jeremy Korzeniewski
---
See also: Jaguar design boss admits X-Type was a mistake, Jaguar C-X17 rides high into Frankfurt, Jaguar C-X17 crossover concept revealed, hides new lightweight aluminum architecture.